How to Choose a Mechanic for Your Wheelchair Van
Eventually, you'll need to take your wheelchair van in for maintenance or repair. If you don't have a reliable mechanic, it can be tough choosing one. We've all heard horror stories about dishonest mechanics and terrible auto shop service. Find a mechanic before you need one. With some preparation, you can pick the perfect place to take your handicapped-accessible vehicle. Otherwise, you may end up somewhere you don't want to be when something goes wrong and you're desperate.
Look into Potential Mechanics for Your Wheelchair Van
Accumulate a list of potential mechanics for your new wheelchair accessibe van by asking friends, family and coworkers for recommendations. You'll get a few names to look into and probably a few to avoid. Search online for reviews of places you're considering. Websites with user-submitted reviews can be a great source of information.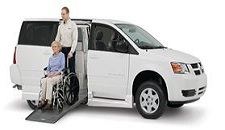 Keep in mind, though, that some online reviews are fakes by people affiliated with the business, and that sometimes people speak out unduly against a place for a perceived wrong. In other words, they're not always trustworthy. Look for common themes running through diverse reviews. For more unbiased sources, check the AAA website for approved mechanics in your area and check with the Better Business Bureau.
Visit the Repair Shops You're Considering for Your Wheelchair Van
You can learn a lot from a quick visit to any repair shops you're considering for your wheelchair van. See whether the place looks cared for and well run. Don't expect a repair shop to be shiny and clean. Still, it should be orderly, the equipment should appear up-to-date and reliable and the staff should seem professional and competent. Were you greeted in a friendly manner? Do employees address you respectfully? Ask whether the an owner or manager is always on-site; if they are, things generally run better.
Ask about the shop's diagnostic tools and processes. Confirm that they use modern technology and that the mechanics are continually trained to work on new automotive technologies. Also, check the walls for accreditation. Certificates from the National Institute for Automotive Service Excellence (ASE) are promising. If other certifications are displayed (like for particular vehicle brand repair or from the Inter-Industry Conference on Auto Collision Repair), those are also good signs.
comments powered by

Disqus