4 Ways to Motivate Your Child Athlete with a Disability
I wish I could tell you that my talented, athletic son who happens to have cerebral palsy, wakes up in the morning begging me to drive him to the track. The reality is he often needs a little encouragement to get going.
He is the kid who whines at the mention of track practice, sometimes he even gets a little crabby while he's there, but if we suggest maybe we take a break from track, well, that's unthinkable! This leaves us frustrated fairly often, as I'm sure it appears to onlookers like he is not a willing participant in the training process. We have come up with a few fun, simple ways to help encourage him to keep practicing. Of course we still have our days, but we'll take progress where we can.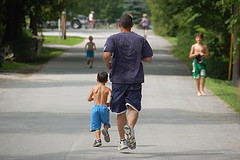 1. Focus on personal bests.
We work on getting faster, throwing farther, jumping longer than he was able to at the beginning of the season. I try to take some notes early on so we have a baseline to help gauge progress. That being said, a friend once told me "every race can't be a personal best." After a season of working hard, of course we want to see him earn personal bests at Nationals, but we also realize, nationals is a tough competition. We are out of our element, staying away from home, there is more stress being put on him by the nature of the competition, so we try not to add to it. We aren't always successful; our son was blessed with a couple of overly competitive parents. Nevertheless, it is on our radar as something to watch for. The other thing I try to remember is that if he is to continue with track as he gets older, he needs to love it, and he won't love it if we are pushing too hard.
Find your perfect Wheelchair Van
Select from thousands of wheelchair vans for sale from hundreds of nationwide dealers
The Mobility Resource has one of the largest selections of Dodge, Toyota, Chrysler, Honda, Ford, Chevrolet wheelchair vans
View All Wheelchair Vans
2. Don't always time, measure or score.
At most practices we focus on form and muscle memory. When we do time or measure, we focus on getting better than he was last time. We work at getting a little bit better in small increments. We tell our son his time and make a big deal of even tiny improvements. We also let him know if he was slower, not in a degrading manner, but to help increase his own awareness.
3. Set goals.
We set long and short term goals early in the season and post them on our wall. Long term goals include things like competing in the Paralympics when he's older, or making personal bests at nationals. Short term goals include things like increasing endurance and speed. We love to check off a goal that is completed!
4. Team up.
As the winter is winding down here in Pennsylvania, my son and I decided to train for a 5K. We are doing the Couch to 5K program together. When I suggested this, I didn't realize how successful it would be. I just thought, hey we both need to get back in shape, him for the upcoming track season and me, well for life in general! We talked about being a team and encouraging each other. My son has really taken this to heart and will push me on when I want to quit, and when I encourage him, he says "thanks Mom, I needed that."
He recently got a new brace and was having some discomfort during the adjustment period. While we were running, he began to whine and complain. So I told him to sit down for a couple of laps and join me again when he felt up to it. When he did finally join me, he reminded me "Mom, I thought we were supposed to be encouraging each other?" Yep, that's my sweet, goofy boy! Beyond the fitness piece, I have to say that I have really enjoyed spending this time with him. Listening to him regale me with stories of what he's building on Minecraft, or what he did at school has been fun. He seems more free to connect with me while we're running together. It might be that he isn't playing a video game on the track, but whatever the reason, I will take it!
Track season will be in full swing very soon for Trent and Strong as Steel Adaptive Sports. I would love to hear what strategies work for you to keep your kids motivated!
comments powered by

Disqus