I Used My Vibrator At The Ohio Senate (Sort Of)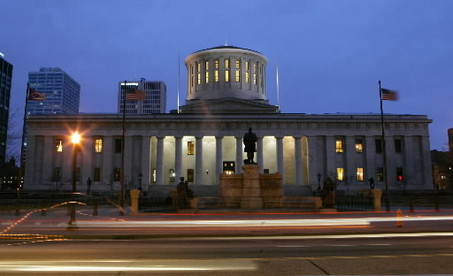 I am a very open person and make no effort to hide who I am, yet I don't generally discuss the details of my sexual practices. However, when duty calls, I'm not afraid to 'roll up' and take one for the team. The ideas being tossed around by Ohio legislators, regarding the employment of those who provide personal care services to people with disabilities, are rather frightening and inspired me to share a bit more than I usually do.
Even though Ohio Gov. John Kasich (R) recently admitted that he ignores the most vulnerable citizens of the Buckeye State, I refuse to believe that all of our legislators share this lack of compassion. Before I get into the dirty details of how I got the Ohio Senate to truly understand what "personal care" means, let's review how we got to this point.
In May of 2015 the Ohio Senate Medicaid Committee held public hearings in an effort to figure out how to best serve those who rely on various Medicaid and Medicare programs while also adhering to the "Companionship Services" rules established by the US Department of Labor in 2013. Most of the rules pertain to wages and overtime compensation.
Find your perfect Wheelchair Van
Select from thousands of wheelchair vans for sale from hundreds of nationwide dealers
The Mobility Resource has one of the largest selections of Dodge, Toyota, Chrysler, Honda, Ford, Chevrolet wheelchair vans
View All Wheelchair Vans
The term "Companionship Services" is a bit misleading because the home care workers that fall under this description are Nurses and Home Health Aides who actually provide life-sustaining personal care to adults and children with disabilities and chronic illness. Some work for an agency and others are Independent Providers (IPs) who are contracted by the state.
Before consulting with those of us who will be impacted by the method in which our legislators choose to comply with the DOL's two-year old rules, the Kasich administration announced they would simply eliminate IPs and force everyone to get their services through a home health agency. Eliminating IPs and the care recipient's freedom of choice would be a quick fix, by relieving the state of all responsibility to these undervalued home care workers.
However, this proposal was met with fierce opposition from people with disabilities and our Caregivers. After a great deal of bad press, the administration retracted the elimination proposal. Yet, the other ideas they are suggesting could place heavy burdens on those who already have insurmountable challenges. This is why I chose to attend one of the Senate's public hearings and gave my very personal testimony.
As I waited my turn to approach the podium, I observed those who spoke before me and how the Senators responded to them. The people who were testifying were all affiliated with an institution of some kind that houses, or warehouses, people with disabilities. They were praising the defunct programs that make life more complicated for those of us living on the outside. They were praising these programs for making their jobs easier. From what I could see of the Medicaid Committee, as they sat behind their half-wall partition, they seemed bored to tears and had trouble looking like they were paying attention.
This dynamic shifted abruptly when I approached the podium and began to speak. I didn't want to pull a Kanye so, I asked the committee if they all had the physical ability to stand up. They looked confused but confirmed that they indeed could. Before I began my testimony, I requested that they stand and maintain eye contact with me while I gave my testimony…and they did. Below are excerpts from the testimony I delivered.
All of us who depend on our Independent Providers breathed a sigh of relief when the Kasich administration removed the language from their previous proposal, regarding the elimination of IP's. However, immediately after the offending language was changed, the administration proposed a reduction of wages for our IP's.
This indicates to me that we have failed in communicating to you what personal care means to us, why it is important that we get to choose who provides this care to us, and why these Independent Providers deserve a raise instead of a reduction of wages – without sacrificing other services we depend on. Therefore, I feel it is my responsibility to share a piece of my story with you, to help you understand the impact your decisions have on my life and those who provide care for me.
The support I get from my IP's allows me to make my own healthy choices and maintain a safe and healthy lifestyle. Some of the services they provide to ensure my health and safety are things that nobody else will do, exactly when it needs to be done.
When I called 911 at 3am because I was woken up by a bat flying around in my bedroom I was told, 'good luck but the police and fire department don't deal with bats.' When the bat hit the ceiling so hard that it briefly knocked itself unconscious and landed next to me in my bed, I panicked and called one of my IP's. She dashed over to my apartment in her pajamas and handled the situation.
Awkward and uncomfortable are both accurate descriptions of some of the other necessary services my IP's provide for me. I practice a very aggressive oral hygiene regimen because of dental issues I have that are symptoms of my disability. Since I have a limited range of motion though, so I am required to use an electric toothbrush. On one occasion when the batteries died in my toothbrush, I did not have any money to buy new ones. The only other batteries in my apartment that would work in my toothbrush were in my vibrator. My boyfriend wasn't coming over until the weekend, I couldn't get the batteries out myself, and I needed to brush my teeth. Without judgment, a lecture, or unsolicited advice, my IP handled the situation and put the batteries where I needed them so I could brush my teeth.
Only time will tell if the impact I was aiming for was actually achieved. Since the Chair of the Medicaid Committee, Senator Dave Burke (R), took the time to thank me for my testimony and ask further questions about the delivery of personal care services before I left the podium, I am hopeful.
comments powered by

Disqus