"I Would Love To See Your Wheelchair": Angry Note Left On Man's BMW In Handicapped Parking Spot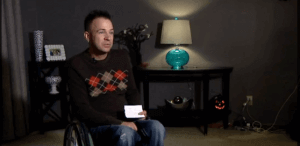 This article originally appeared at woodtv.com by Dani Carlson
An anonymous person wrote an angry note and left it on a car parked in a handicapped spot, accusing the driver of not needing the space. But Matt Milstead has used a wheelchair for nearly two decades.
Matt and his wife, Leslie, told 24 Hour News 8 they are somewhat uncomfortable with all the attention they have received since Matt got the note.
It happened Wednesday when Matt, 36, went to the downtown Grand Rapids YMCA to play wheelchair rugby. He parked his BMW in a handicapped parking space, with the appropriate handicapped parking tag displayed on the car's rearview mirror.
"As I come back out to my car, there is this letter that was shoved into the door handle of my car," he recalled.
Milstead read the scrawling handwriting, never expected to read the misplaced venom in the note.
"I would love to see your wheelchair!" the anonymous note stated. "I'm guessing male 25-35 years professional who thinks he's got the world by the ass. But I could be wrong."
"I was kind of puzzled why he would leave this note and never met me, didn't know if I was in a wheelchair or not, but he just assumed I was just someone who tried to steal a close and convenient spot," Matt said.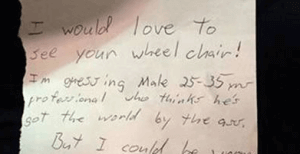 Leslie wasn't puzzled. She said she was "instantly furious."
"It's kind of ironic the guy was trying to right a wrong. He assumed some jerk had parked in a handicapped spot that shouldn't be, and so he was really trying. He probably felt like a good person and thought he was doing a good thing, but the problem is he was wrong," Leslie said.
So Leslie wrote back to the anonymous person on her own Facebook page, saying she is sure her husband would be glad to trade his BMW and handicapped parking pass for working legs and hands for the rest of his life — a trade she doubts the anonymous writer would make.
"I didn't think everyone was going to see [the response on Facebook], but I did it just because I kind of felt helpless," she said. "I can't go back and say, 'Here is his wheelchair. Now what do you want to say?'"
"Just because I drive a car doesn't mean that I should not be parking in a wheelchair spot," Matt told 24 Hour News 8. "This individual thought I obviously stole [my handicapped placard] from somebody who was elderly or in a wheelchair and just assumed."
And while Matt and Leslie never expected to get this much attention from the story, they hope it will serve as a lesson to others.
"I never expected it to get to this level. I kind of looked at it like, well, this will be another. It will happen again. But, hey, if I change someone's way of thinking, then it was worth it," Matt said.
They both said they don't really see the point of writing an anonymous letter and leaving it on someone's car, as it's likely to do more harm than good.
"It's not going to stop those people that are abusing it. And the damage is done when it gets to someone that really deserves to be there," Leslie said.
comments powered by

Disqus