Inquiring Minds Want to Know: How to Respond to Questions about Love and Disability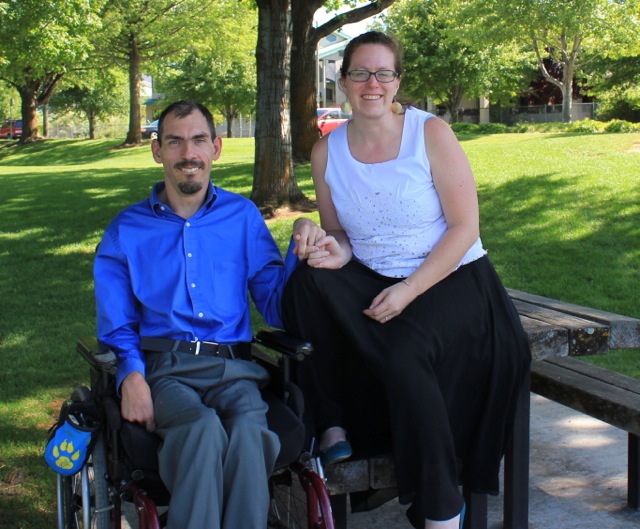 My husband Barton and I met training in martial arts. At the time, he was living in Arizona and I was living in Alabama. While I didn't intend to keep our relationship quiet, I had been through one very public break up, and wasn't expecting to find love again.
After a trip to Tucson over Thanksgiving, I came home with a diamond ring on my finger, and plenty of questions to go with it. Even more puzzling was how I began to explain my love to a man with a developmental disability.
Before long, many questions and assumptions had been made about my love life, and I had no idea how to respond. I was in love; it didn't matter what anyone else thought.
Yet, the questions persisted, and they were many.
Find your perfect Wheelchair Van
Select from thousands of wheelchair vans for sale from hundreds of nationwide dealers
The Mobility Resource has one of the largest selections of Dodge, Toyota, Chrysler, Honda, Ford, Chevrolet wheelchair vans
View All Wheelchair Vans
Was he is a wheelchair when you met? Was he in an accident? Will you have children? How will you manage? How do you, well you know…
How does one answer these burning questions about our relationship? Especially when each addresses an assumption about someone in a wheelchair.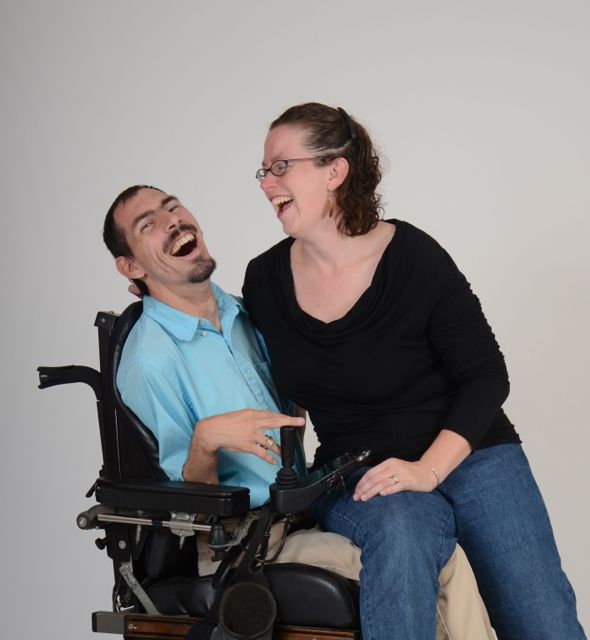 photo credit: Elizabeth Galecke
Respond with Humor
Barton was in his manual wheelchair, and the receptionist took us in an elevator for a professional meeting. The woman asked, "Now, where did you get such a pretty helper?"
Barton, with a flashy smile responded, "Because she said yes." After a puzzling look, and I explained we had been married for seven years at that point. We laughed and could see the receptionist processing this new information, and her assumptions about Barton falling away.
Coming from a place of humor breaks the ice, and after a moment of laughter, assumptions break down.
Coming From a Place of Openness
In my own experience, few questions came from a place of bullying, anger or prejudice. In most cases, questions came form a place of not knowing, ignorance, or curiosity. It's not everyday you see a man carrying his wife home from a date in his wheelchair. When we do answer questions, we come from a place of honesty and openness.
One time in a grocery store, a boy sat in a shopping cart about the same height as Barton's wheelchair. He started talking to Barton, asking all kinds of questions. We spent 30 minutes answering all of his questions, and later commented on how being open created a learning environment.
Times of Silence
One common response people will say when they find out we are married is, "You are so good for marrying him." If they only knew all of the ways Barton supports me. but depending on the situation, it may not be appropriate to crack the shell open. Over the years, I have learned when to share our experiences and when it is better to stay silent and walk away.
Looking to Your Partner
Over time, it's frustrating to see your spouse or loved one being treated like a three-year old. When the waiter looks to me to order for us. Time after time a receptionist asks me a question when Barton is right in front of them.
In these times, I will look to Barton for the answer. And sometimes, I won't translate his slurred accent from Cerebral Palsy because I don't always know what my husband is thinking, and it's an opportunity for the other person to listen on a deeper level.
Creating Boundaries
Barton and I share our story fully in Ink in the Wheels: Stories to Make Love Roll to create conversations and dialogue around relationships and disability. Yet, not all couples want to talk about their love lives in public. It's okay to create boundaries for privacy. We prefer not to talk about that in public, creates a line and gives a lawyer of self/couple protection.
Disability and relationships is such a new topic, there is no research on how many people with developmental, intellectual or spinal cord injuries are married and have families.
In our case, we have chosen a path of sharing our story because we want to inspire other inter-ability relationships, and create a truly inclusive community.

comments powered by

Disqus