Inter-Ability Couple Is Raising Money For An Accessible Van In A Unique Way
Barton and Megan Cutter have been sharing their inter-ability love story with the world, but it sure would be easier if they had a wheelchair accessible van.
Raising funds for a van has been tricky, but the Cutters thought of an innovative idea: donate hours of volunteer work in exchange for donations to their van campaign.
On the couple's blog, Love Rolls On, Megan wrote a letter to the National Mobility Equipment Dealers Association (NMEDA) to try to win a van during Mobility Awareness Month.
She talked about falling in love with Barton, who uses a motorized wheelchair due to cerebral palsy. She also talked about the impending demise of the North Carolina couple's non-accessible 1999 Honda Civic, which has soldiered on for a quarter of a million miles.
The Civic needs "major engine repairs," Megan said. "Not only that, but when they take it apart, because of its age and rust, there is no guarantee that they can put it back together."
"Barton and I talked it over and realized that rather than throwing away money on a car that was already at its deathbed, this would be our best opportunity to find a way for an accessible vehicle that would allow Barton the independence he needed, and in turn allow us to continue and expand the work we do to empower others," Megan said.
Unfortunately, Megan later shared the news that while they finished in the top 5 percent of the voting, the Cutters did not win a new wheelchair van.
This caused the couple to brainstorm new ideas to raise the money, like trying to get on The Ellen DeGeneres Show or asking to be a spokesperson for NMEDA or BraunAbility.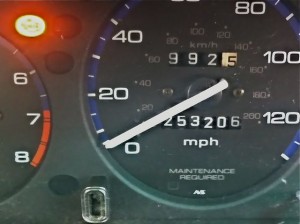 The Cutters are already speaking publicly near their home of Raleigh, N.C., in support of their book, Ink in the Wheels: Stories to Make Love Roll.
Megan said that if she and Barton get a new van, they will spread their message "as far as we possibly can. Certainly across the U.S. and Canada, as Barton has a dream of driving all the way to California, stopping for speaking engagements all the way there and back."
"Feedback from Ink in the Wheels: Stories to Make Love Roll has been very positive, especially from families impacted by disability," she added. "There are few memoirs by married couples, and our story gives other families one example of a successful inter-ability couple. Our vision is to impact as many families as we possibly can, fostering a belief of inclusion and possibility, as tools for success."
Both Cutters work with people of all abilities. Megan is a writer and editor who puts on creative writing and expression workshops. Barton is a professional leadership and life coach, specializing in youth leadership.
"He has a passion for supporting youth, families, and professionals in developing sustainable relationships that foster inclusion and engagement for everyone involved," Megan said.
Barton and Megan speak on communication, developing healthy relationships, inclusive leadership, personal empowerment and tips for dating and intimacy. Barton has also developed DisAbled Protection, a self-defense curriculum for those of any ability, and the Cutters teach safety and awareness classes together. In fact, they met in a martial arts class.
They hope the GoFundMe drive will help them spread an empowering message of what people with disabilities can accomplish far beyond their hometown.
"This is our mission in life: to support youth, adults and families as they navigate this journey, breaking down barriers and stereotypes in the process," Megan stated in her open letter to NMEDA.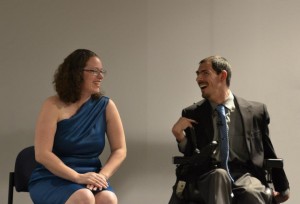 The Cutters volunteer for Reed and Feed, Raleigh City Farm and their local chapter of Habitat for Humanity. They will donate an hour of their time to one of these organizations in exchange for a $50 donation to the GoFundMe account.
Megan asked in her letter: "Who asks a young girl or boy with a disability who they want to be when they grow up? Our vision is to let children, families, parents and adults dream again."
comments powered by

Disqus