Meet Annae Jones, Mother Who Was Born A Double Amputee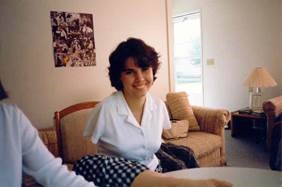 I don't have a little sister but if I did, I'm sure she'd be exactly like Annae Jones. Annae is the latest writer to join The Mobility Resource and has been a good friend of mine since she moved in next door to me at the start of my third year at Mount Royal College in Calgary, Alberta when she was a freshman.
Like siblings, we don't agree on very much but there's no denying that we have a lot in common. For starters, we both enrolled in writing programs in college. I majored in journalism while Annae majored in technical writing. We both lived in the accessible housing unit right across the street from the college we attended and on a cool Sunday morning, I found myself awkwardly standing on a sidewalk next to Annae as we waited for two different vehicles to arrive that would ultimately take us to the same church.
We also both have physical disabilities. I was born with Spina Bifida while Annae was born a double amputee without any arms. We often joked that we would make the perfect body or should I say team…with the use of her legs and my arms. You'd think with all this in common that we would get along great and we d0–sort of.
It's just that we both see the world very differently and we take quite different approaches in the way we live our lives. In college, I was the kind of guy who would put off assignments until the last minute, skip class without a thought and who would clean my house whenever something on the floor moved that I couldn't identify.
Find your perfect Wheelchair Van
Select from thousands of wheelchair vans for sale from hundreds of nationwide dealers
The Mobility Resource has one of the largest selections of Dodge, Toyota, Chrysler, Honda, Ford, Chevrolet wheelchair vans
View All Wheelchair Vans
Annae, on the other hand, was much more disciplined. She would work hard on her projects, attend all of her classes and would showcase her cooking skills by occasionally putting up with me over a free meal at her house. I bugged her for being a goodie-two-shoes and she bugged me for being a disorganized mess.
We drove each other crazy regularly. Sitting on her couch, a habitual occurrence in those days, we debated over each other's views and perspectives. I would question Annae's carefully planned and well-executed approach to life encouraging her to loosen up and take in all that college had to offer. While Annae would challenge my less focused and somewhat cavalier attitude. Adding further salt to the wound was the fact that Annae and I performed equally well in most everything we pursued.
We both got the same grade in the children's literature class we were enrolled in and we even held the same public relations job at a utility company we would both work for later in our careers. The only thing she really has over me is driving–a bet we made which left me buying her dinner.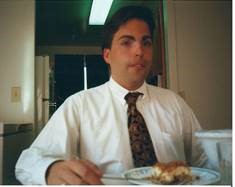 Despite our differences, here we are united again with mutual respect of each other's accomplishments, ready to share our views and experiences with you all at The Mobility Resource. In further blogs, I have no doubt you'll be able to read about Annae's experiences as a wife and mother to her two young school aged children along with some of the shocking things she has had to fight for with her public school board and in combatting ignorance from perfect strangers.
From me, you can expect to hear stories about my experience as a new husband with an able-bodied wife and you'll also get my thoughts on working within the field of public relations in the corporate world as a person with a disability. Maybe if I get up the nerve, you can also come along as a virtual passenger with me as I finally learn to drive?
No doubt, we're all in for some great discussions at The Mobility Resource blog and I hope you'll all enjoy the diverse perspectives we present on a semi-regular basis.
comments powered by

Disqus