Is Your Mind Handicap Accessible?
Accessibility Goes Beyond Handicapped Vans and Adaptive Equipment
Wheelchair accessible vans, scooter lifts and other disability friendly equipment only go so far bridging society's gap between people with disabilities and those without, as Illinois natives Tim Wambach and Mike Berkson demonstrate via their stage show Handicap This! Open-mindedness proves much more crucial to creating an inclusive environment, a point Wambach and Berkson greatly emphasized in a recent interview with The Mobility Resource.
Handicap This! tells the story behind Tim Wambach and Mike Berkson's friendship, a friendship which started when Wambach served as a special education assistant to Berkson. Before long the two's relationship transcended the ordinary staff-student dynamic, Berkson's wheelchair and cerebral palsy. Those who see Handicap This! also transcend Berkson's wheelchair and cerebral palsy, getting to experience Mike Berkson—the person.
For instance, Wambach recalls audience feedback he received from a Western Michigan University professor. "Up until seeing that show [Handicap This!] there was a wall up in his life from the disabled. It was a wall he created by himself and it wasn't until he saw our show that he allowed himself to knock down that wall."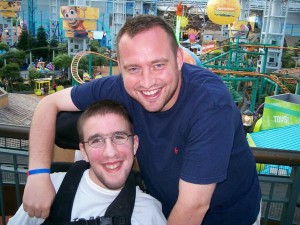 Mike Berkson (seated) and Tim Wambach, lead actors in Handicap This!
The professor's experience aligns with the goals Wambach hoped his and Berkson's stage show could accomplish. When asked about his early expectations for Handicap This! Wambach stated "I really wanted this to be a tool to educate the able-bodied community." Interestingly enough Wambach noticed the show quickly did more. "What I really noticed which was more powerful than that [education] was the special needs community, our show gave them a voice. Our show was something that was exhilarating to them."
Find your perfect Wheelchair Van
Select from thousands of wheelchair vans for sale from hundreds of nationwide dealers
The Mobility Resource has one of the largest selections of Dodge, Toyota, Chrysler, Honda, Ford, Chevrolet wheelchair vans
View All Wheelchair Vans
Mike Berkson certainly serves as an ideal individual for such a task. "Let me put it this way. I'm hyper aware of what I can't do but I'm also hyper aware of what I can do" Berkson assertively stated. Some people call Berkson and Wambach inspirational, but Berkson dismisses the notion. "I look at it more as we give them [others] the tools to inspire growth."
Asked to give advice for creating a better inclusive society, Berkson said "Talk the way you would talk to everyone else. Don't look at the chair, don't look at the cane, don't look at the walker." Wambach joked "I'm going to be selfish first and say go see Handicap This." Once done with his plug Wambach advised, "I look at it as experience is the best teacher and the best way to gain that experience is to dive right on in. Volunteer, read [books about disabilities], have an open mind about different experiences and different people."
Ultimately Tim Wambach and Mike Berkson, along with a dedicated staff, keep busy doing all they can to open people's minds to see past wheelchairs, handicapped vans and other disability friendly equipment. Handicap This! not too long ago expanded beyond Illinois to Pennsylvania. September will see the show debut in Iowa and Kentucky. Wambach and Berkson also do speaking engagements. Wambach penned How We Roll, a book which shares his and Mike Berkson's story. He additionally serves as the president of the Keep On Keeping On Foundation. The Keep On Keeping On Foundation's current project involves installing an elevator into a home of parents who have four children with cerebral palsy, three in wheelchairs. To learn even more about Tim Wambach and Mike Berkson visit www.handicapthis.com or www.keeponkeepingon.org.
comments powered by

Disqus