John W. Quinn Challenges Standard Disability Perceptions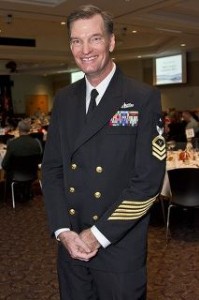 Consider standard disability perceptions challenged, thanks to Someone Like Me: An Unlikely Story of Challenge and Triumph Over Cerebral Palsy by author John W. Quinn. Someone Like Me shares how despite a mild form of CP, Quinn joined the Navy and enjoyed a two-decade long naval career, reaching Senior Chief Petty Officer rank. While Quinn doesn't need a wheelchair himself, people who use handicap vans can relate to his story. The Mobility Resource recently caught up with the retired naval officer via Skype to talk Someone Like Me, disability perceptions and more.
Standard Disability Perceptions
Too often, society pities individuals with disabilities. John W. Quinn recalls his own personal experiences. "A lot of people when they hear I have cerebral palsy, you know, you can feel their shoulders slump and their eyes start looking downward and their like 'Oh, I'm so sorry.' Their expectations suddenly drop."
Defeating this attitude requires people with disabilities setting high standards for themselves, Quinn believes. "I think its dependent upon individuals with disabilities to push themselves whether its physically, mentally, emotionally to say 'Yeah I got this condition but here's what I want to do' and try to find a way to do the things you want to do."
For John W. Quinn his path to doing what he wanted to do, join the Navy, involved lying. Fearing instant rejection Quinn answered negatively when asked by Navy doctors if he had any health conditions. Reflecting back he says, "I would have loved to tell the truth at the beginning, to say 'I have CP but I think I can pass your test.' I'm not talking about lowering requirements but instead giving an equal opportunity."
Seeking Honest and Equal Opportunities
John W. Quinn wants honest and equal shots for individuals with disabilities. He suggests young people with handicaps interested in serving their country to tell the truth from the start, admittedly not always the most effective advice. When Quinn learns someone who followed his wisdom doesn't receive a fair chance he gets frustrated. "Honesty is the way to go. Policy needs to change."
Honest and equal opportunities go beyond military service to all different societal occasions. Without a fair chance discouragement can overtake ambition. Someone Like Me helps combat negative sentiments by inspiring readers. Quinn discusses inspiration as a reoccurring theme amongst his book'sfeedback. "That's your hope as a writer to be able to impact people's lives in that way. Or once you get an email from someone with a disability who says 'Hey because of you I'm now going back to school or I'm trying to do something I've always wanted to do because you taught me not to give up or to give in.'"
Making a Difference
Besides individuals with disabilities, parents find Someone Like Me a powerful read. Quinn shares, "Parents buy a copy of the book and have me sign it for the child and they tell me, they say 'When this child is old enough to read it and fully understand your book we're going to give this to him or her. Thank you because we've read your book and it gives us hope for our little baby.'"
Quinn thrives on providing hope and educating others about disabilities, going on to discuss the public speaking he does. "I love talking to young school kids is standing in front of a crowd saying 'Hey, I got cerebral palsy. Here's what it is, here's how it affects me and do you have any questions?' Kids will raise their hands and they'll ask me 'Where's your wheelchair?'" He addresses these questions, explaining not everyone with a disability needs a wheelchair or handicap van.
Reaction from kids with disabilities to Quinn's assemblies proves overwhelmingly positive. "What it does is helps the kids who do have disabilities that are sitting there listening to you. Because after you're done talking those kids come up to you and say 'Thank you. Thank you for educating my class. Because of you people now understand me better."
Unfounded Fear
Prior to releasing Someone Like Me, John W. Quinn admits feeling nervous about how people in the disability community might react to his story. His concern remained rooted in his handicap's mildness. Quinn doesn't use a wheelchair, need a handicap van or breathing device, or require assistance to get through the day. Yet as Quinn says and his insights demonstrate, "my fears remained unfounded."
Someone Like Me: An Unlikely Story of Challenge and Triumph Over Cerebral Palsy can be found in traditional, e-book, and audio book formats at amazon.com. To learn more about John W. Quinn, visit www.johnwquinn.com.
comments powered by

Disqus