Lessons in Swagger: Lady Gaga's Golden Chariot
In the peak of the Viking rampage in Europe, Ivar the Boneless cruised the Earth carried on a shield by his tall and hulking Norse inferiors. We don't know exactly why he was called boneless, but we can extract from the evidence of his constant human chariot that he was disabled.
Is it morally unethical to be somewhat admiring of a murdering plundering drunken egomaniac? There is something reassuring about the thought that even in the harshest, most unforgiving times of humanity, a leader could be revered and cared for despite physical impairment.
Then again…was it the man, or was it the fact that he was carried around by four others on a regular basis that made him appear so respected?
Find your perfect Wheelchair Van
Select from thousands of wheelchair vans for sale from hundreds of nationwide dealers
The Mobility Resource has one of the largest selections of Dodge, Toyota, Chrysler, Honda, Ford, Chevrolet wheelchair vans
View All Wheelchair Vans
In a recent revival of interest in Viking history and after a plea from both archaeologists and historians alike, Lady Gaga would like to resolve this ancient mystery for mankind once and for all.
The far less hulking and far less bearded Ms. Gaga has commissioned the construction of a 24kt gold, "bejeweled" wheelchair after her recent hip surgery.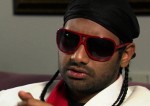 What is the lesson in swagger here? How far must the handicapped citizen go to pimp their ride? There is truth to the fact that we do want to remodel these hunks of steel into something edgy, something less obtrusive, leaner, cooler, and more responsively alluring. I went as far as attaching a flask to my wheelchair so that it clanks against the metal every time I hit a bump. I call it "drinking and driving." But with celebrity culture today, this extraneous golden order is not surprising. Even the most beloved Hollywood stars cash in on a few questionable purchases that could feed a small African country.
I had an eighteen hour back operation and all they gave me was a catheter.
My guess is that the message here is not meant to be as superimposing as one might think.
Rather, given the commendable nature of Lady Gaga's emotional support of her fans, perhaps it is a gesture of pride to the handicapped community that admires her. I was raised to give the benefit of the doubt, and, despite the quirkiness, find Ms. Gaga to be a kind and decent person.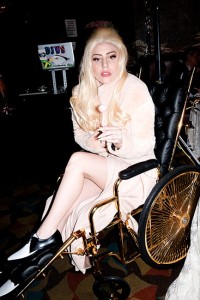 Or perhaps she's trying to flash a plane signal off those wheels of gold and escape the papa-paparazzi.
Obviously, it isn't working.
The historical conclusion to this experiment remains unclear. Both Gaga and Ivar possess the tendency to take the world by storm, and both have a lavish taste for disabled transportation. Both have/had tremendous following, and both could be tentatively dubbed a "Little Monster."
My hypothesis is pretty concrete. There can only be one deduction.
…Have you ever seen them together in the same room?
comments powered by

Disqus