Mariah Kilbourne Seeks Historic-Site Access as Ms. Wheelchair America 2013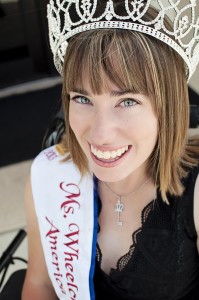 Every town has a historic heart, and Mariah Kilbourne wants everyone to be able to visit it.
My wife and co-journalist, Jennifer Gorman, and I had the privilege to interview Ms. Wheelchair America 2013, during breakfast just before the National Forum on Disability Issues.
As Ms. Wheelchair America 2013, Kilbourne is publicizing her platform, called "Inclined for Inclusion," focusing on accessibility in urban historic districts.
That idea began when she was a journalism student at Texas Lutheran University in Seguin, Texas. She uses a wheelchair due to cerebral palsy, which she contracted after she was born three months early.
"There were a lot of boutiques. family-owned restaurants and souvenir shops that I couldn't enter," she said. "I would have to eat food or try on clothes out on the curb. My friends also had trouble gaining access."
Find your perfect Wheelchair Van
Select from thousands of wheelchair vans for sale from hundreds of nationwide dealers
The Mobility Resource has one of the largest selections of Dodge, Toyota, Chrysler, Honda, Ford, Chevrolet wheelchair vans
View All Wheelchair Vans
Kilbourne found a vehicle to address this issue in the Ms. Wheelchair Texas pageant, which she discovered "by fate."
"I was visiting Morgan's Wonderland in San Antonio and using the exercise path. I came to a booth where I signed up to do a fashion show. The emcee of the show was Ms. Wheelchair Texas 2011, and she asked if I had heard of the Ms. Wheelchair Texas pageant.
"I applied, and three weeks later, I went to the leadership conference and pageant, and I ended up winning," she said.
Kilbourne, 24, overcame 10 other contestants to become one of the youngest winners in pageant history and give her the chance to be a leader, a role that she relishes. Just after spending 2 minutes with her, it's not hard to see how she won. With zest for life, sparkling spunk, uplifting attitude and winning smile you desire to adopt her cause as your own.
"I've always wanted to make a difference and be a leader," she said. "This is the exact right place for me to be. I want to make Texas more accessible, and now I can take my mission across the USA, since there are more than 1,200 historic districts across the nation."
Kilbourne's win in Texas on March 24 placed her into the Ms. Wheelchair America pageant in Rhode Island in July. Thanks to support from the Ms. Wheelchair Texas Foundation and other donors, she didn't have to raise the $2,000 entry fee.
"There's a lot of support for the program in Texas," she said.
While waiting for the national pageant, Kilbourne kept busy by booking events nearly every week to spread her message at schools and hospitals around the Lone Star State.
Kilbourne also has been plugging 3elove.com, and distributing buttons and stickers with the International Symbol of Acceptance. 3elove stands for Embrace, Educate, Empower … Love Life.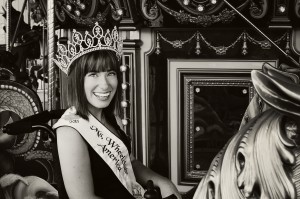 Today, Kilbourne is working for the city of Seguin's Economic Development office. She writes a column for the city and works on its social-media efforts, so she can take her job on the road for her role as Ms. Wheelchair America.
Kilbourne would like to expand the opportunity she has been given all over the country.
"There are only 28 states with a Ms. Wheelchair pageant," she said. "I would like to see one in all 50 states."
She called the national pageant experience in Rhode Island "an amazing week.
"The other girls had such amazing stories and were real role models," Kilbourne said. "It's great to have a community of supporters that believe in the same things you do.
"They are like my sisters," she added. "We have an online webstream where we stay in touch and share advocacy techniques."
Kilbourne called the two-minute speech the most challenging part of the Ms. Wheelchair America pageant.
In addition to the crown and sash, Kilbourne also won the right to hold onto a special Build-A-Bear with a wheelchair and crown, which she will eventually present to her successor.
So far, her efforts have begun to bear fruit, and she has helped to secure grants to have some ramps built in downtown Seguin.
"I hope we can do the same in other small towns," she said.
Have you assessed your hometown? Is the historic district accessible to people who use wheelchairs? Share your comments.
comments powered by

Disqus