Miami Heat Wheels Strive To Educate, Motivate and Inspire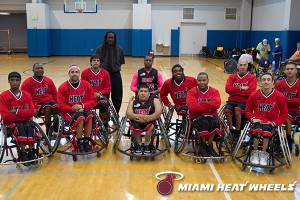 It seems the disability community is finally succeeding in reaching two very important goals: a) Breaking the stereotype that we are all helpless, sickly people to be pitied. And b) Proving that we have a lot of amazing qualities to share with society as a whole.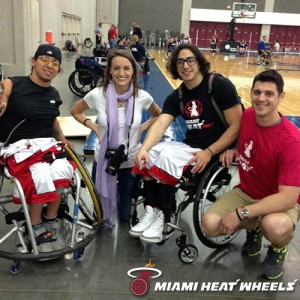 TMR recently spent some time with a group of guys who are helping drive this success. They're the Miami Heat Wheels of the National Wheelchair Basketball Association (NWBA). Led by coach Parnes Cartwright, the team of 17 men bring more to the court then just true grit–an essential attribute for the grueling sport of wheelchair basketball.
It's not all about the competition–though they are very competitive–or who is the best player with the Miami Heat Wheels. This team thrives on giving back to the community, an initiative fueled by their mission to "educate, motivate and inspire."
Find your perfect Wheelchair Van
Select from thousands of wheelchair vans for sale from hundreds of nationwide dealers
The Mobility Resource has one of the largest selections of Dodge, Toyota, Chrysler, Honda, Ford, Chevrolet wheelchair vans
View All Wheelchair Vans
Point Guard Jeremie Thomas aka "Wheelchair Moss" says the team is all about encouraging people with disabilities to stay active. "People of all abilities are welcome to practice with the team and enjoy the camaraderie while staying physically active," he said. "They support each other while also pushing each other to do better. When it's time for competition though, that's when the traveling team rolls in and takes charge."
In addition to wheelchair basketball being an excellent form of exercise, for some it's therapeutic, as it minimizes depression and promotes self-empowerment. Shooting Guard Mario Moran put it like this, "Staying active with my team keeps negative thoughts away and drives me to keep pushing forward, even though things sometimes get heated on the court." "They are more than a basketball team, they are my family."
The bond between these athletes and the one they share with the community recently sparked the interest of filmmakers, Shaina Allen and Mike Esposito, of Shaina Koren Cinematography.
Initially the duo set out to follow the Miami Heat Wheels on the road during the teams latest season to film their successes and struggles. In the beginning of filming the project, they did not anticipate becoming part of the Miami Heat Wheels close-knit family. But now that they have an insider perspective, they realize there is a greater story to be told.
There are approximately 200 professional, competitive wheelchair basketball teams in the NWBA, and the Miami Heat Wheels are ranked in the top ten. They also compete at the division lll level in the Florida Wheelchair Basketball Conference.
When the Miami Heat Wheels documentary is completed, it will definitely "educate, motivate, and inspire"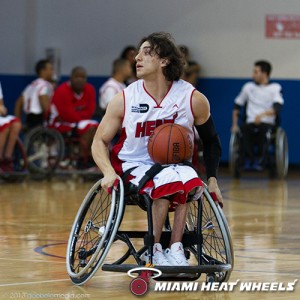 2012-13 SEASON RESULTS
Record: 20-9
NWBA Florida Conference Ranking: 1
NWBA Division III Ranking: 8
Highest rank this season: 6
comments powered by

Disqus