Mobility, Social Issues Leave Many Voters with Disabilities Politically Sidelined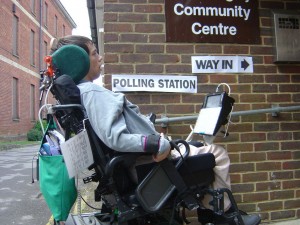 Despite representing one of the largest and most impactful voting blocs in the country, voter turnout among Americans with disabilities is 11 percent lower than for those without disabilities, research finds.
The recent study published in Social Science Quarterlyaimed to determine whether Americans with disabilities are part of the political mainstream, or if they remain sidelined in the democratic process. The results revealed that while important steps have been taken to eliminate disenfranchisement, notably the Americans with Disabilities Act of 1990, many Americans with disabilities do not participate in elections. In 2008, this meant a potential difference of 3 million voters.
Mobility issues in particular contribute to this enormous gap. Not everyone with a physical disability owns, or is able to use, a wheelchair van; even many who do still experience obstacles in making it to their voting locations. Then, there are possible impediments at the polls – lack of wheelchair accessibility, hard-to-read ballots, machines that are out of reach. A study by the U.S. Government Accountability Office determined that two-thirds of polling locations in 2008 had barriers and other accessibility problems that made it difficult for voters with disabilities to cast their ballots.
Absentee ballots are the next best option for voters with mobility problems. But researchers note that those with visual and cognitive impairments may still have trouble completing the ballots. That's not to mention the fact that exercising one's right to vote is often motivated by a feeling of social inclusion.
"Even with the option of absentee voting, however, turnout is lower among people with mobility problems, suggesting that greater mobility may have important social and psychological effects through increased social interactions… and identification with mainstream society," the study said.
Find your perfect Wheelchair Van
Select from thousands of wheelchair vans for sale from hundreds of nationwide dealers
The Mobility Resource has one of the largest selections of Dodge, Toyota, Chrysler, Honda, Ford, Chevrolet wheelchair vans
View All Wheelchair Vans
The study also found that there are few differences in party affiliations and political leanings between voters with disabilities and their nondisabled peers. However, there is also less participation in the overall political process among citizens with disabilities compared to the rest of the population.
"[P]eople with disabilities have also been less likely to participate in other forms of political activity, such as contacting elected officials, contributing money to campaigns or political groups and attending political meetings," the study said.
The researchers contend that continued efforts to make voting more accessible for Americans with disabilities, plus improved education and social inclusion, will help narrow this startling gap.
According to the U.S. Census Bureau, there are nearly 57 million Americans living with disabilities. This is 19 percent of the country. With a rapidly aging baby boomer population and an increased number of military veterans returning from deployments with disabilities, this constituency continues to grow and so do their concerns.
As the November election nears, Americans with disabilities and their advocates continue to ensure those concerns are voiced. On Sept. 28, a nonpartisan forum will be held in Columbus, Ohio to address policy issues relevant to persons with disabilities and their supporters. The National Forum on Disability Issues is scheduled to take place from 12:30 p.m. to 3:30 p.m. at the Hyatt Regency downtown. Seats are no longer available, but you can register to watch a live webcast of the event here.
Source:
Sidelined or Mainstreamed? Political Participation and Attitudes of People with Disabilities in the United States
http://onlinelibrary.wiley.com/doi/10.1111/j.1540-6237.2012.00885.x/pdf
We'd like to hear about your experiences in voting and the democratic process. Have you or a loved one ever dealt with disability-related problems while participating in elections? What do you think should be done to ensure inclusion of Americans with disabilities?
comments powered by

Disqus