Innovation: Morph Wheels, The World's First Folding Wheelchair Wheel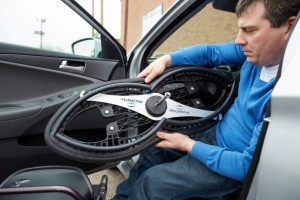 The world of technology is finally designing products for people with disabilities that actually address our wants and needs. This is very exciting for those of us who have been impatiently waiting for a user-friendly product that could make our lives easier like, Morph Wheels. Recently, TMR got an inside look into the world's first folding wheelchair wheel.
I'm a wheelchair-user. Tell me about your product and why I should get one.
The Morph Folding Wheel is the world's first ever, foldable wheelchair wheel. It attaches to any wheelchair with a quick release axle. The difference then comes once the wheel is detached from the wheelchair. Basically, like pulling the axle out but you don't need to pull it all the way out. There is a special stop built it. You're able to fold the wheel to almost half its size. This helps increase accessibility. It's easier to transport the wheel independently in and out of a car. Instead of trying fit the large 24-inch wheel up and over the steering wheel, it's easier to pass it when it's only 12 and a half inches in diameter–to pass between the steering wheel and the body. It easily fits in the overhead bin on an airplane or under the airplane seat. So, you can also travel in smaller cars. People aren't constrained to a certain sized car…it just makes things easier and more accessible really.
How long has the Morph Folding Wheel been available?
We launched it in March of this year about five months.
Find your perfect Wheelchair Van
Select from thousands of wheelchair vans for sale from hundreds of nationwide dealers
The Mobility Resource has one of the largest selections of Dodge, Toyota, Chrysler, Honda, Ford, Chevrolet wheelchair vans
View All Wheelchair Vans
So, this is new technology?
Yes it is. It's the world's first foldable wheel. There is nothing else like it on the market. We're really proud of the design. Although it may look simple, it definitely is an engineering feat what we've accomplished.
Who is the mastermind behind this technology?
It was first developed by a fellow named Duncan Fitzsimmons, a graduate student at the Royal College of Arts in London back in 2007. He first developed it as a folding wheel for a bicycle and he got a lot of awards and attention because it was a great design. Then, the wheelchair community over in the U.K. heard about it. He started getting many, many calls from wheelchair-users, saying "Hey. Can you redesign this as a folding wheel for a wheelchair because we could really use it?" So, he did that and then Maddak teamed up with him. Maddak is the parent company of The Morph Wheel. Then we further developed the wheel, using focus groups. We approached it from the perspective of the disability community. Then, in 2013 we launched Morph the Folding Wheel.
Has Morph Wheels been on display at any of the Ability Expos?
The only one we've missed this year was Atlanta because that was before the launch. We have been in Los Angeles, New York, Chicago, Houston, Boston and San Jose.
What kind of feedback have you gotten from customers?
We've gotten incredibly good feedback. People think that it's not going to roll smoothly or it's going to feel cumbersome. All the feedback we get – people are surprised that it rolls just as smoothly as what they are accustomed to but it's more convenient to use. One of our customers is a Lawyer and he always complained about his tires getting dirt on his suit when he'd transfer into and out of his car. The Morph Wheel is much easier for him to use and he doesn't get dirt on his suits like he did with his old wheels. It solved the problem he was having.
Are Morph Wheels something that Medicare and/or Medicaid would cover?
Right now, I don't believe Medicare would cover it. However, we are writing letters of Medical Necessity to be covered under Medicaid.
If someone wants The Morph Wheel, how do they get it?
They can go straight to morphwheels.com because we sell them directly off the website. They can also contact their local home medical equipment provider.
Do they come in adult and juvenile wheelchair sizes?
Right now we just launched the 24-inch wheel. Based on the feedback we are getting, will determine where we go next.
For those fashionista Wheelchair-users, how many colors does The Morph Wheel come in?
Just black but black goes with everything.
comments powered by

Disqus