Mothers With Disabilities: Special Times with Your Children
My wife Jennifer and I have a girl who is just about to turn 10. She's our only child and she loves to soak up all of our attention. My wife uses a wheelchair, so you won't find them on the golf course or the ski slopes, but still they find some simple, special ways to spend time together. Here are four ways my wife and daughter bond without the intensity of physical activity.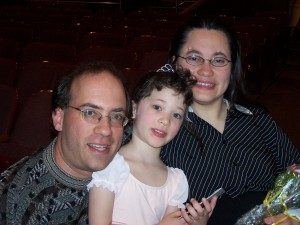 1) Watching TV.
Jen took an interest in one of our daughter's favorite TV shows and now they enjoy watching several episodes back-to-back on Netflix. It's not always easy to find family-friendly shows but they got a kick out of watching "The Elephant Princess."
It's a show about a typical Australian high school girl who aspires to become a rock star. However, she later discovers that she actually the princess of a kingdom that she can teleport to with the help of a magical elephant. I'm sure there are other fun shows that mothers and daughters can enjoy together–I'd love to hear your suggestions in the comments.
Find your perfect Wheelchair Van
Select from thousands of wheelchair vans for sale from hundreds of nationwide dealers
The Mobility Resource has one of the largest selections of Dodge, Toyota, Chrysler, Honda, Ford, Chevrolet wheelchair vans
View All Wheelchair Vans
2) Snuggling.
Jen still likes to snuggle with our girl and bombard her with hugs and kisses at 10-years-old, just like she did when our baby was 10 days old and 10 months old. Our daughter loves it, and when life deals her disappointments down the road, she will be able to retrieve those hugs from the snuggle bank to soften the blow.
3) Playing video games.
In the same way Jen got into our girl's TV show, she also has a video game that they can play together on the iPad. It's called Puzzle Craft, which is funny because it doesn't seem to involve puzzles at all. It's a farming game, in which you chop down trees, harvest hay and raise cows, chickens and pigs. They can't play at the same time, but they like to give each other advice on how to succeed at the game.
4) Travel.
Even though we don't have a new wheelchair accessible van, our family has done a lot of traveling around the country by car, bus, train and airplane. Before she turned six, our daughter had dipped her toes in both oceans and the Gulf of Mexico. The biggest trip we took was last Christmas, when Jen surprised me and our daughter with a trip to Disney World. We were absolutely floored, and it was the best trip the three of us have enjoyed together. We even made friends with a mother and daughter from England while we waited to get an autograph from the princess from "Brave."
So a mother with a disability may not bond with her daughter in the typical ways, but she can still find ways to establish great everyday comforts and lifelong memories.
comments powered by

Disqus