Mothers with Disabilities: They're Not Invisible
How many people with disabilities do you know? How many of them are mothers?
How about on TV and in the movies? I can't even say, "I can count them on one hand," because I can't think of any mothers with disabilities on TV sitcoms, movies, not even on an episode of "Law and Order."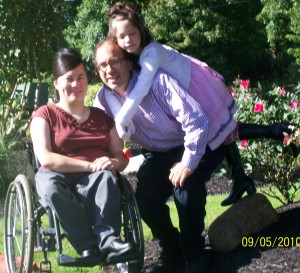 But if you look closer, you'll find a mother with a disability. She may be at the grocery store, at the mall, at her kid's soccer game.
If you're a mother, too, take the time to get to know her. You have a lot in common. She's facing the same challenges you deal with every day as you navigate your children through the toddler years, the dance recitals, the piano lessons, the basketball games and the teenage years.
Find your perfect Wheelchair Van
Select from thousands of wheelchair vans for sale from hundreds of nationwide dealers
The Mobility Resource has one of the largest selections of Dodge, Toyota, Chrysler, Honda, Ford, Chevrolet wheelchair vans
View All Wheelchair Vans
Most importantly, include her in your circle of friends. Invite her to lunch, play dates, shopping, even to your home. Don't fail to include her because you've made the following two assumptions:
I can't go out to the mall with her because she can't drive. Even if she doesn't have a wheelchair-accessible vehicle, she can get around. She can take the bus. A friend could pick her up. She might even have a husband who works at home.
I can't invite her to my house because it's not built for a wheelchair. Extend the invitation and at the same time, let her know what the situation is at your house (steps, split levels, etc.). It only takes a couple of friends to help her up a few steps. Let her judge where she can and cannot go.
Don't be afraid to include a mother with a disability in your circle of friends. When you see her – treat her as you would any mother you come across with the dignity, respect and a potential life long friend for you and your family. You won't be a hero or a martyr. You could gain a friend for life and so may your kids.
comments powered by

Disqus