National Wheelchair Basketball Association Teams With SPIRE Institute
The National Wheelchair Basketball Association has formed a partnership with SPIRE Institute, a huge sports facility in Geneva, Ohio as an official training site.
In addition to sending the U.S. Men's Paralympic team off to London, SPIRE will now play host to camps, clinic and possibly wheelchair basketball competitions in the future.
SPIRE was founded in 2008 by business mogul Ron Clutter, who made his fortune in the specialized air-conditioning business.
"He believed that when you do well, you should share with others so they can better themselves," said Dave Smalley, SPIRE's first employee and director of external relations.
The NWBA includes more than 200 wheelchair basketball teams around the country, and SPIRE is a continually growing facility that is already includes more than 750,000 square feet of sporting space.
Find your perfect Wheelchair Van
Select from thousands of wheelchair vans for sale from hundreds of nationwide dealers
The Mobility Resource has one of the largest selections of Dodge, Toyota, Chrysler, Honda, Ford, Chevrolet wheelchair vans
View All Wheelchair Vans
In addition to space for basketball and volleyball, SPIRE has an outdoor-style soccer pitch under its roof.
"We have premier club soccer teams that play here, and they like the fact that they're not playing on a hockey rink and kicking the ball off a wall," Smalley said.
A separate building includes an Olympic-size swimming pool with movable starting blocks for 25-meter or 50-meter pool lengths.
Outside, SPIRE has a full-size stadium that hosts high school football, soccer and track competitions.
SPIRE also includes a section called Michael Johnson Performance, founded by the American sprinter who won gold medals in Barcelona, Atlanta and Sydney from 1992 to 2000.
The Michael Johnson Performance program is run by Bryan McCall and works with athletes on improving their strength, endurance, speed and agility. He has trained the Florida State Seminoles football team and an Olympic silver-medal winning swimmer.
The dining facility, SPIRE Fuel, is designed to give athletes healthy options to improve their performance. The food has no added trans fats, artificial colors or flavors, and customers can learn about the food they are eating on video screens as they make their selections.
SPIRE is constructing dormitory facilities for high school and post-graduate students who would take academic classes as well as concentrate on sports like soccer, swimming and basketball.
"This would be similar to the Nick Bollettieri Tennis Academy in Florida," Smalley said.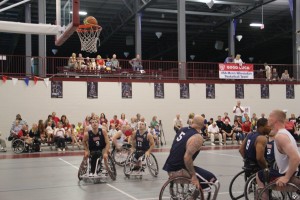 SPIRE has also hosted the Division II college wrestling, track and swimming competitions and its size will allow the Big Ten to host the men's and women's track championship meets in the same facility for the first time.
During the Paralympic basketball team's sendoff event, co-captain Will Waller of Hudson, Ohio, said he and his teammates enjoyed their time training at the facility.
"In the year we've trained at SPIRE, the team has really connected with the folks in Northeast Ohio," he said. "When we win a gold medal on Sept. 8, we'll be thinking about all of you."
What do you like best about your favorite place to play?
comments powered by

Disqus