Nike Designs A Fashion-Must Have For People With Disabilities
The next ten posts from this Blogger will be dedicated to the movers and shakers of fashion who were highlighted in the previous post TOP 10 FASHION MUST_HAVES FOR PEOPLE WITH DISABILITIES.
Athletes come in all shapes, sizes, skin tones, and levels of ability…just like everyone else. In the context of this post, the word "ability" is not to be mistaken for "skill."
Nike, a leader in athletic footwear, recognizes that a star athlete with mad skills is no less an athlete just because he/she does not have the ability to tie his/her own shoes.
Tobie Hatfield, a longtime designer and problem solver at Nike, designed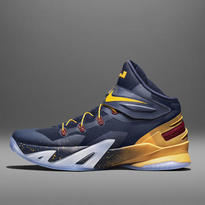 an innovative new athletic shoe that is accommodating to athletes with disabilities without compromising performance.
Hatfield states in the video below that his two main sources of inspiration for this new footwear system were Jeff Johnson and Matthew Walzer.
Find your perfect Wheelchair Van
Select from thousands of wheelchair vans for sale from hundreds of nationwide dealers
The Mobility Resource has one of the largest selections of Dodge, Toyota, Chrysler, Honda, Ford, Chevrolet wheelchair vans
View All Wheelchair Vans
Johnson was Nike's very first employee, who later had a stroke that left him with a loss of mobility in one of his hands. He was no longer able to put his shoes on independently.
Walzer, now a college student, was still in high school when he reached out to Nike on social media. He explained that his Cerebral Palsy (CP) prevented him from being able to put his shoes on independently. This was a huge stress for him because he was preparing to attend college and wanted to increase his level of independence.
The solution to these footwear accessibility issues is the easy-entry footwear system designed by Hatfield called, FLYEASE. This forward thinking design eliminates the need for shoelaces and makes it easier for disabled athletes to get into and out of without any assistance.
Not only does the FLYEASE design perform like a Nike shoe should but it also provides a sense of confidence and independence because of its accommodating design.
While multiple designs using FLYEASE technology are currently being developed, the LeBron Soldier 8 FLYEAS was made available in limited supply on July 16, 2015. Several pairs were also gifted to two U.S. basketball teams that are participating in the Special Olympics.
comments powered by

Disqus