How a Teenager's Service Dog Impacts More Lives than One
Laura had a little dog, little dog, little dog,
Laura had a little dog whose fur was white as snow.
Followed her to school one day, school one day, school one day,
Followed her to school one day which was against the ru—
Wait. Against the rules? That can't be right. She follows me to school every day and no one has tried to evict us from the premises yet.
For much of my life, I have been an Air Force girl. That means moving. A lot. Moving means new schools, and a new school means new friends. When you're a kindergartner it's all fun and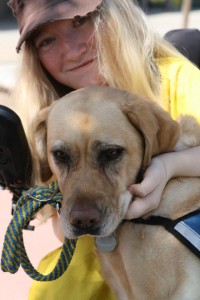 games, but the older you get the more people start to stare at the unfamiliar girl in the wheelchair. Funny, isn't it? The innocence of children accepts everyone, disabled or not. Why do we unlearn that childlike love as we grow up? Why do we progress backwards? It hurts those of us with disabilities, but what can we do about it? Here's the rest of my story, the part where I try to help people re-learn acceptance.
I don't do it alone.
Let me introduce you to Darcy, a service dog trained by Canine Companions for Independence. She knows between 50 and 70 commands which she combines with her warm heart and sweet personality to help me with almost everything.
Having a dog at high school is nothing short of amazing; if you think one might benefit you, absolutely look into it.
At school, I used to wait in the hall for someone else to open the door I needed to pass through. Now, I say "Darcy, door!" She gets up and pushes the handle down for me, eager to hear the "Good girl!" that follows. Before when I would drop my phone, I'd sit silently-flaming on the inside-while I waited to see anyone I knew well enough to ask for help.
Now? "Darcy, get!" A gentle mouth lifts my phone and she steps onto my footrest to return it, waiting gladly for a little hug.
I used to stroll alone in the quiet parts of campus, avoiding people like they seemed to avoid me. Nowadays no one can get enough of us.
So many people want to meet the dog and ask her name and it doesn't stop there. She's my bridge to the rest of the world, an avenue for my personality to spill down. When they meet Darcy, they give me a chance. Those few, precious seconds are enough to dethrone discrimination as it becomes immediately evident that I have a brain (Shocking, isn't it).
In that way, we can teach people one on one every day, and then every so often we get the chance to tackle whole groups and pin them down with education. I speak on disability and the way it changes someone's life, and then Darcy shows them all how she makes up the difference for me and tips the balance back in the right direction. They're held spellbound. We've presented to preschoolers, Boy Scouts, high school classes and adults in their workplace, and it spreads out from us like a huge network of roots. We tell people, they pass it on. And little by little the community of people who won't treat disability like it's inability grows. A dog won't be everyone's solution, but it's worked for me. Try things out. Find your solution.
comments powered by

Disqus