Many Ohioans with disabilities believe that Gov. John Kasich (R) is a bully whose recently proposed policy would be a blatant infringement of their civil rights, while also supporting the institutional bias, which is the outdated notion that all people with disabilities should be institutionalized.
The Kasich administration proposes to, phase out Independent Providers (IP's), who provide life-sustaining personal care to individuals in their own homes. The administration claims this move is necessary to order to reduce Medicaid fraud and improve the quality of care for the 16,000 Ohioans with disabilities (including children, seniors, and yours truly) who receive personal care in our homes.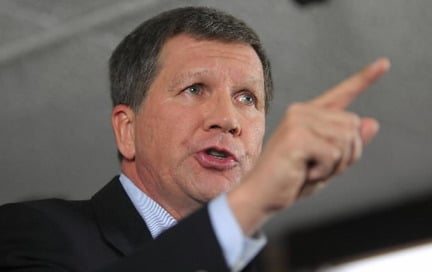 This isn't the first occasion that Kasich has been accused of employing bullying tactics. However, this is the first time that the disabled citizens of Ohio and their caregivers have pooled their resources and are working together, in conjunction with the Ohio Consumer Voice for Integrated Care (OCVIC), and other advocates to convince state lawmakers that phasing out IP's is a bad idea for all parties involved.
First, while we acknowledge that Medicaid fraud is a real problem, we find Kasich's claim that Independent Providers are more fraudulent than home health agencies rather questionable.
Annually, IP's have a mandatory Provider Oversight Review conducted by the Public Consulting Group (PCG.) Yet, home health agencies are only inspected by the Ohio Department of Health every three years. The administration proposes greater oversight to reduce fraud from home health agencies – not to eliminate them. Why not do the same for IP's, or at least improve upon existing oversight measures?
Second, Kasich and his administration have yet to explain exactly how phasing out IP's would improve a Consumer's quality of care. Most Consumers and IP's argue the contrary. One Consumer, Robert Stump, had this to say about the Governor's proposal:
"I am 44, severely disabled with Muscular Dystrophy (SMA Type 2), use an electric wheelchair full-time, only have real use of 1 finger on my right hand to drive my wheelchair and two fingers on my left hand to operate a computer mouse."
I have relied solely on independent providers to provide my home care since 1998, and I truly feel that they are the only reason I am still alive today. If I will soon be forced to rely on random strangers an agency chooses to send my way, I don't see a very positive future in front of me, and I truly fear for my health. I doubt I'm the only one."
Stump's concerns may seem extreme, but many consumers have had bad experiences using agencies, preferring IPs for their reliability in showing up and providing consistently high quality services.. It wasn't that long ago that Makayla Norman, a disabled teen, lost her life due to neglect while receiving nursing care from a home health agency in Dayton.
Caregivers with experience in both working for agencies and being an IP are in agreement that Kasich's proposal will not improve Consumer's quality of care. "In February of 2014 I became an IP. After working six years with an agency I cannot stress enough how ineffective and unreliable they are! I spent just as much time covering call-off's as I did working my own shifts. Not to mention the pay was HORRIBLE," claims Danella Monsman.
Furthermore, those of us who utilize the services of IP's are receiving these personal care services because we qualify for one of Ohio's Home and Community Based Waiver Programs. The following is a brief description of these waiver services, pulled from the PCG website;
"The waiver programs support the individual's right to choose to live in the community, encouraging them to live as independently as possible and with self-determination, while providing the services, supports and safeguards needed to ensure their health and welfare."
Eliminating our choice to utilize the services of the IP's, whom we have established relationships of trust with, does not particularly support the foundation upon which these home and community based services are built upon.
Director Moody of the Governor's Office on Health Transformation is quick to remind us that under the "Self Directed Option" some Consumer's might get to keep their IP's. However, consumers and IP's alike find little comfort in this option, because that option gives the Consumer more responsibilities that they may not be equipped to handle by making them an "employer of record." If not adequately funded, this option will likely lead to less services because of different price caps.

In addition, Governor Kasich's proposal would reinforce the institutional bias by imposing institution-like constraints on consumers in our own homes. Unlike IP's, agency workers are generally not permitted to transport their Consumers out of their homes. Thus, eliminating IPs will restrict the ability of consumers living at home to have full access to the community. Medicaid provides transportation to and from medical appointments but not to a library, grocery store, or a local diner for social interaction with friends.
More examples of how disabled Ohioans could be institutionalized in our own homes if lawmaker's side with the Kasich administration's plan to phase out IP's includes:
Electronic Visit Verification – This could involve a combination of GPS tracking devices, biometerics, or call-ins.
Telehomecare – In conjunction with a well-known cable provider, Consumers can be monitored via their personal communication devices, including their TV's and computers.
The systems described above are very similar to what is used by law enforcement as a means of policing criminals who are on house arrest. Since having a disability is not a crime, these practices would violate our right to privacy.
Consumers are not the only people who would suffer if Kasich's plan moves forward. Agency home health aides and nurses are paid about half of what IP's are paid. Having their pay cut in half could lead to more people signing up for Medicaid and food stamps. One IP who chooses not to be identified told the OCVIC:
"We IP's DO care about the people that we take care of, but I know that I, for one, cannot afford to work for an agency, so I will have to leave the home care profession… A person can work at McDonalds for more money, and less stress, than what the agencies pay. A lot of caring people will be sorely missed by consumers. We do this job as a labor of love, but we also have to be able to pay our bills."
In closing, we, the disabled citizens of Ohio and our Independent Providers are ready, willing, and able to work with lawmakers to find amicable solutions that will fulfill our healthcare needs while also being cost effective. We are disabled. We are not unable and we are not criminals. Don't bully us. Work with us. Nothing about us without us!
HIGHLIGHTS
Choice – The Consumer gets to choose which IP's to hire. When getting services from an agency though, the Consumer never knows who is going to show up at their door to provide their personal care.
Dependability – Consumers find IP's to be more reliable than agency workers. In this line of work, not showing up means that someone may be left in bed to dehydrate, soil themselves, or worse.
Safety – Proof of a clean BCI Criminal Background check must be submitted to Medicaid before an IP can begin working with Consumers. Agencies have been known to send workers into homes before receiving the results of a worker's background check.
Health – Many Consumers are considered medically fragile and employ very specific routines to maintain optimal health. These routines can take several hours or even a few days of hands on training to learn, depending on the Consumer's degree of impairment. Utilizing the services of an IP provides opportunity for this necessary training and helps establish the foundation of a long-term Consumer/Provider relationship. The agency model of providing care does not accommodate this vulnerable population.
Find your perfect Wheelchair Van
Select from thousands of wheelchair vans for sale from hundreds of nationwide dealers
The Mobility Resource has one of the largest selections of Dodge, Toyota, Chrysler, Honda, Ford, Chevrolet wheelchair vans
View All Wheelchair Vans