On the Road: Creating Inclusive Travel Adventures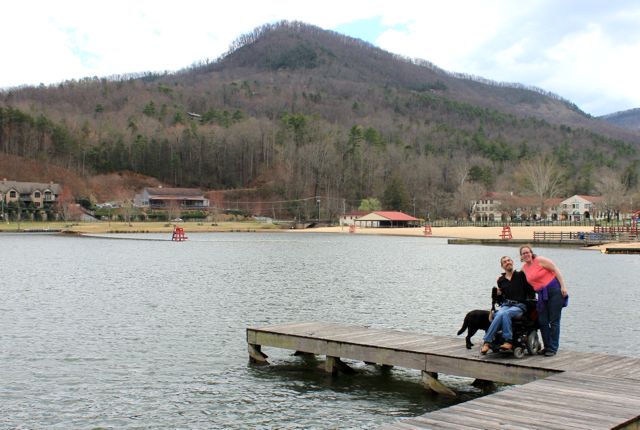 This spring, we travelled to Lake Lure, outside of Asheville, NC for a weekend camping adventure. We found the perfect campsite, and it was early in the season, so we had a lot of room to ourselves.
We had expected some rain to come through the area, but our campsite was covered, so we stayed relatively dry when the storm came through.
The next day, we happened to find a boardwalk on the edge of Lake Lure that was perfect for an afternoon walk. While we didn't go trailing in the mountains, we found the ideal walk on the lake with the perfect view of Chimney Rock.
Our accessible vehicle handled the curvy mountain roads relatively well.
Find your perfect Wheelchair Van
Select from thousands of wheelchair vans for sale from hundreds of nationwide dealers
The Mobility Resource has one of the largest selections of Dodge, Toyota, Chrysler, Honda, Ford, Chevrolet wheelchair vans
View All Wheelchair Vans
While we were there, we visited a retreat center down a steep dirt road. Our accessible vehicle navigated the bumps in the road as we made our way down without bottoming out.
Follow these tips for an inclusive travel adventure:
Make sure you have what you need! Having fun on the road means you've got what you need so you're not scrounging in an unfamiliar place. Research what places in the area are wheelchair accessible, and which are not; the more research you do, the more accessible your trip will become.
In the moment, find your flexibility. Driving into Asheville, through the mountains we passed a farm advertising lunch and decided to take a detour. It was the best food we had the entire trip!
Have a back-up plan. We knew rain was a possibility and planned to sleep in the van if our tent got rained out. While we were fine, we found that our covering inside the tent began to sweat, so we pulled our covering inside the van.
Don't forget the first-aide kit. I know, I know, we're sounding like an overprotective parent. But for those just in case moments, it's good to have what you need. We found this out first hand when Megan tapped her foot on the edge of a steel fire pot, and was nursing a slight burn.
Opt for a tour. While we wanted to be in our own secluded spot for the weekend, tours often offer accessible alternatives to trails or bathrooms.
Having an accessible vehicle means that we're able to travel more and experience the outdoors with more independence.
This last year, we've explored more walking paths in our own city, and we've just begun to explore what adventures lay in other places.
comments powered by

Disqus