Police Officer Kills K9 Partner, Should He Be Tried As A Cop Killer?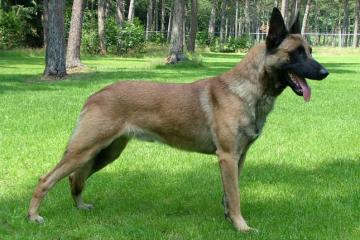 A police K9 was found dead in Woodstock, Georgia on June 19, after being forgotten in a patrol car during sweltering heat. With temperatures reaching the mid 80s and aggravated by high humidity, K9 Spartacus never stood a chance.
To make matters worse, it appears that Spartacus was left in the car at the home of his own partner, Officer Chad Berry, a 12-year law enforcement veteran.
Pickens Sheriff's spokesperson Kris Stancil said that it is possible the police dog was left in Berry's patrol car for about six hours from 3 to 9 p.m.
Berry is on paid administrative leave pending the results of an internal investigation.
Find your perfect Wheelchair Van
Select from thousands of wheelchair vans for sale from hundreds of nationwide dealers
The Mobility Resource has one of the largest selections of Dodge, Toyota, Chrysler, Honda, Ford, Chevrolet wheelchair vans
View All Wheelchair Vans
I was shocked when I first read this story on MSN. The first thought that raced to my mind was that Officer Berry had just killed his partner!
I cringe at the thought of Spartacus watching Berry disappear into his home. I imagine Spartacus beginning to pant as the hot sticky air steadily replaced the cool air inside the vehicle turned cage.
I wonder if the car was in the shade or directly in the hot sun? Would it have even mattered, probably not?
Then I imagine Spartacus looked longingly at the front door, confident that his partner will come back shortly with some cool water and perhaps a treat.
How long was it before Spartacus began to panic, barking and pawing at the door? One hour? Two? I wonder if desperate scratch marks adorn the door close to the window. Smudges of Spartacus' nose on the window.
Eventually Spartacus became too tired from the fight and must have lied helplessly on the seat as the heat began to attack his brain.
I wonder what affected him more, the heat or the feeling of despair that his partner had abandoned him? Either way Spartacus, a Police K9 trained in detection, tracking and apprehension died of heat stroke, betrayed by his master and partner.
I simply don't understand how something like this happens.
I can say with complete confidence, that in my 17 years of military Law Enforcement, I've never seen such negligence in the military K9 community. Granted, there is a major difference between the military and civilian law enforcement in terms of how K9 are lodged.
Military installations, which have K9 programs, operate a centralized kennel where the dogs remain when not on duty or training. In the civilian world the dogs remain with the handler during off duty hours.
This awful incident reminded me about the movement to officially classify military K9 as service members and police K9 as police officers. Right now the military and civilian police classify their dogs as equipment, much like a patrol car or a pistol.
I've seen many passionate outcries when a criminal kills a police dog. People want that perpetrator prosecuted as cop killers and personally, I agree with this. I'm a huge supporter of reclassifying these heroes as fellow officers and service members.
But what happens then when that cop killer is a fellow officer? Should Officer Berry be prosecuted as a murderer?
According to the Cherokee Tribune, Stancil said there could be charges made against the officer for animal cruelty if investigators determine there was intentional neglect or cruelty involved, but said it's too early in the investigation to know.
I know I'm not in Woodstock, Georgia and am not involved in the investigation, but the animal cruelty seems crushingly obvious. Spartacus's brain fried as he died of heat stroke.
Intentional or unintentional, Officer Berry, a nine year K9 handler veteran, was negligent and should face criminal charges.
But should he face them as a cop killer?
comments powered by

Disqus