Pony Access Makes Beaches, Hiking Easier For People Who Use Wheelchairs
Wheelchairs weren't designed for strolling along the beach or hiking through the forest. Fortunately, a British company uses ponies to help wheelchair users travel on a variety of terrains.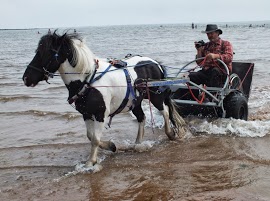 Pony Access fulfills the wishes of some of Great Britain's leaders, who have called for greater beach access for the disabled population.
Prime Minister David Cameron spoke at the Disability Employment Conference in July 2013 and challenged Disability Minister Esther McVey "to make sure our beaches are more disabled-friendly."
Pony Access meets these challenges, according to its website, because for a pony, "beaches are easy. So are muddy tracks, forest paths, Dartmoor, farm visits, parks and gardens, and your local neighbourhood."
Find your perfect Wheelchair Van
Select from thousands of wheelchair vans for sale from hundreds of nationwide dealers
The Mobility Resource has one of the largest selections of Dodge, Toyota, Chrysler, Honda, Ford, Chevrolet wheelchair vans
View All Wheelchair Vans
The connection between the wheelchair and the pony is a vehicle called the iBex Saddlechariot, which works with any manual or electric wheelchair.
The iBex is equipped with a remote-control release in case a pony gets spooked and takes off running.
Safety is a key component of Pony Access. The wheelchair is only eight inches off the ground, and the iBex is four feet wide, making it "much more stable than a wheelchair on its own," according to Pony Access founder Simon Mulholland.
He started Pony Access "because people like to get to the beach, all people, regardless of ability. The grin says it all."
In addition to helping the disabled, Pony Access provides therapeutic ponies for those who simply want to be around them, even if they don't need a ride.
"You want to scratch a pony. That's easy. It is trying to stop that's difficult because Obama (the pony) really likes being scratched and he isn't going to let you get away easily," Mulholland said.
Pony Access began after Mulholland's mother gave his daughters a 40-inch high pony named Henry.
"I am 6'3" and 240 pounds," Mulholland said. "Riding Henry was out of the question, so driving him in a cart looked like a good idea. The trouble is that traditional carts, like all traditional horse activities, are dangerous."
"So I decided to build a safe, one-man, pony-drawn vehicle," he added. "Henry was massively helpful and showed me every time I had made a mistake, and I made lots in the process."
Mulholland took Henry and the Saddlechariot "everywhere, on Hadrian's Wall and through the centre of Birmingham, over the Fells and on beaches.
"The vehicle was easy and comfortable for Henry without the problems caused by traditional vehicles and harnesses," he said.
Mulholland said kids love horses because they are a rare sight among those who are not in the upper class.
"When I took Henry into Birmingham, school kids started screaming with pleasure the minute they saw him. They had never, ever, seen a pony close up that they could touch and talk to," he said. "It took hours to get him away from the school as the kids were so desperate to talk to him, to touch him. I decided then that bringing ponies to people was worth doing."
The original Saddlechariot "only worked if you were reasonably agile," Mulholland said, but he soon received comments that it would be perfect for the disabled population.
"I wanted a vehicle Christopher Reeve could drive after his accident. It had to take every wheelchair, and even a hospital bed with the old fashioned 'iron lung.' This may seem like a ridiculous target, but I have achieved it. The iBex takes any wheelchair, across any terrain with any person."
In January 2009, Mulholland acquired his current pony, Obama, who was "terrified of whips, sticks, hosepipes and anyone wanting to ride him."
Mulholland read a book called "Animals in Translation" by Temple Grandin and worked with Obama to create a "training system that was simple, safe and allowed everyone to work with ponies. All I was waiting for was the iBex."
He developed the vehicle in Exeter with the help of some friends with disabilities who were willing to test it.
"I was trying to build a wheelchair-enabled vehicle I could drive from Exeter to London, and round Hyde Park, on my own, from a wheelchair. Sixteen days on the road ended with a very tired and scared person, a very tired and scared pony and the iBex."
Mulholland thought they had reached Hyde Park, but they were actually in the Kensington Palace Gardens.
"Five police officers materialized to point out that Obama was eating Royal Grass, and that this was an offense, and we would have to go back into the perfectly lethal rush hour traffic until we reached Hyde Park, some 500 yards away. I tried pointing out that Obama wasn't smoking the grass, but this didn't work," he joked.
"I got back from the trip and ripped the vehicle to pieces and rebuilt it from scratch. It worked better. Then I got John Howson, a brilliant Exeter-based metal worker, to build it my way. It worked better. Then I let him build it his way and it worked even better and looked stunning," Mulholland added.
Since developing the original iBex, Mulholland has improved the ramps, seating and stability, as well as adding a camping version with pop-up roof and seven-foot bed.
He has also designed a wheelchair-enabled trailer so the pony can take two people in wheelchairs, as well as a remote control instant release system.
Mulholland has brought Pony Access to schools, care homes and other facilities that work with the disabled population. He hopes to expand Pony Access to France in the near future.
"I am fully insured and way out the safest equestrian activity in the world," he said. The Pony Access site features several videos of the ponies and the iBex in action.
For more information, contact Mulholland at ponyaccess@gmail.com or by calling +44 7510 736518. You can also follow Pony Access on Twitter.
comments powered by

Disqus