Public Transportation in the U.K. vs. the U.S.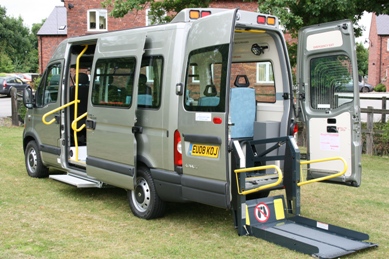 As a wheelchair user, it's important to know exactly what facilities are available when travelling from A to B. Whether you're Stateside or in Britain, here's a summary of the accessibility measures in place on public transportation in the U.K. and the U.S. – ensuring your journey is as seamless as possible.
Public Transport & Wheelchair Access in the U.S.
Public transport varies from state to state, but on the U.S. side public there are generally good systems in place to enable a stress-free journey for wheelchair users.
Greyhound buses – the largest provider of intercity bus transportation in the States – have a number of measures in place to assist wheelchair users on their journey. Each Greyhound bus can accommodate up to two wheelchairs, with restrictions on weight and dimensions. Further assistance includes help with boarding and disembarkation, as well as luggage and transfer assistance. There is also a Disabilities Travel Assistance Line, which Greyhound advises wheelchair users to call prior to traveling, to advise of any specific needs in advance.
Find your perfect Wheelchair Van
Select from thousands of wheelchair vans for sale from hundreds of nationwide dealers
The Mobility Resource has one of the largest selections of Dodge, Toyota, Chrysler, Honda, Ford, Chevrolet wheelchair vans
View All Wheelchair Vans
As for trains, Amtrak (the US national railway service) offers assistance to wheelchair users upon arrival at stations – most of which are now accessible. If you're concerned about accessibility at stations, you can check in advance using the Amtrak online tool.
To help wheelchair users on and off trains, a bridge plate is used for high platforms, and mobile lifts for low level platforms. You will then have the option to stay in your wheelchair, or transfer to an accessible seat with your wheelchair stored closeby. Amtrak advise that wheelchair users request assistance on booking, or alternatively arrive at the station as early as possible.
Public Transport and Accessibility in the U.K.
In the U.K., the Disability Discrimination Act sets standards for all forms of public transport. Since 2001, U.K. public buses are accessible, including low floor buses with access ramps. The U.K.-wide coach service National Express is currently working with the Department for Transport on providing wheelchair accessible vehicles, and they provide a list of current accessible routes. There is a Disabled Persons Travel Helpline for enquiries – National Express asks for 24 hours notice of any assistance required.
All trains in the U.K. were made accessible in 2004, but will not be fully compliant until 2040. Typically, trains have a limited number of wheelchair spaces, and National Rail advise booking in advance. Not all train stations are accessible to wheelchair users; most larger stations are, but smaller stations cannot guarantee accessibility and are not always manned by staff – reducing the chances of assistance. In most stations, assistance is provided and station staff should help wheelchair users to get on or off the train, via a ramp.
In summary, both the U.K. and the U.S. are working towards greater accessibility on public transport for wheelchair users, with better facilities and wheelchair accessible vehicles. It is always advised to contact the travel provider in advance of your journey to discuss any special requirements, allowing time for preparation if needed.
References:
Guest Post provided by
Duncan Cummings
has been writing for over five years. His marketing and business development background has helped him write informative articles about the latest technology, including developments for the disability sector that can help make a real difference to the way we live.
comments powered by

Disqus