R.N. Mona Freedman: Dedicated to Her Disability Advocacy Efforts
No word may better describe R.N. Mona Freedman's attitude towards her disability advocacy efforts than 'dedicated.' The registered nurses connection to the disabled population exists both professionally and personally.
Professionally, before starting a 501(c)3 non-profit Caring Communities, Freedman worked within the community. Personally, her daughter Andrea thrives as a businesswoman, overcoming mild to moderate developmental delays.
During a phone interview with The Mobility Resource Freedman explains how her experiences in the disability community helps influence her various disability advocacy efforts.
The Beginning
After serving as Family Support Services Coordinator for the Maryland State Department of Education Infants and Toddlers Program, Freedman noticed a need for a strong network to bring families together in the disability community.
Find your perfect Wheelchair Van
Select from thousands of wheelchair vans for sale from hundreds of nationwide dealers
The Mobility Resource has one of the largest selections of Dodge, Toyota, Chrysler, Honda, Ford, Chevrolet wheelchair vans
View All Wheelchair Vans
The 501(c)3 non-profit Caring Communities began in early '97 and proves a non-profit in every sense. Freedman shares how getting passed up for government funding led to her personally financing Caring Communities, plunging into debt greater than $80,000. "It's crazy. I don't know if I was a good business woman but I did what I thought was right. Parents do things other people don't do," said Freedman.
Freedman knows firsthand how the power of love and support hold, referring to the closeness she has with her 26-year-old twin daughters, Andrea and Jamie.
For Andrea, family support helped equip her with the skills required to become a successful entrepreneur. Today she owns and runs an Eldersburg, MD sports memorabilia store, The Sports Nut. Her mother emphasizes the fact that Andrea runs the business own her own. "She does the ordering. She does the hiring. She does everything."
To further illustrate the impact love and support can have on a person with disabilities, Freedman mentions Andrea's finance Jesse Magee.
Legally blind and diagnosed with cerebral palsy, Magee thrives living his dream as a musician. He fronts the self-described rock 'message' band, Leftstronger. His outgoing personality only came about after support from the Freedman family.
Prior to meeting them Magee kept to himself, a broken man casted off to the side by his own parents due to his disabilities.
When considering her daughter and future son-in-law's stories, Freedman's dedication to Caring Communities appears a little less crazy. "It's not really like you're doing it for money anymore. It's kind of like you're doing it for the services here in the community and because it's the right thing to do," she said.
Indeed the influence Caring Communities offers could greatly benefit anyone with a disability, albeit someone developmentally delayed, blind or who rides around in a wheelchair accessible van.
The Mission
The Caring Communities website defines the organization's mission, "To offer disability-related training, education, publications, and events for the benefit of children and adults with disabilities, their families and caregivers, as well as healthcare and education professionals." Maryland boasts 400 plus more respite caregivers thanks to the non-profit. Respite care involves giving breaks to individuals caring for family members with disabilities.
Hosting the annual World of Possibilities Disabilities Expo serves as another way Caring Communities accomplishes their mission. Started in 2004, the Expo quickly gained momentum and become the largest disabilities expo within the mid-Atlantic region. Freedman describes the scene, "We're talking about 100 vendors, convention centers, busing people in, transportation, agencies and people bringing their entire family."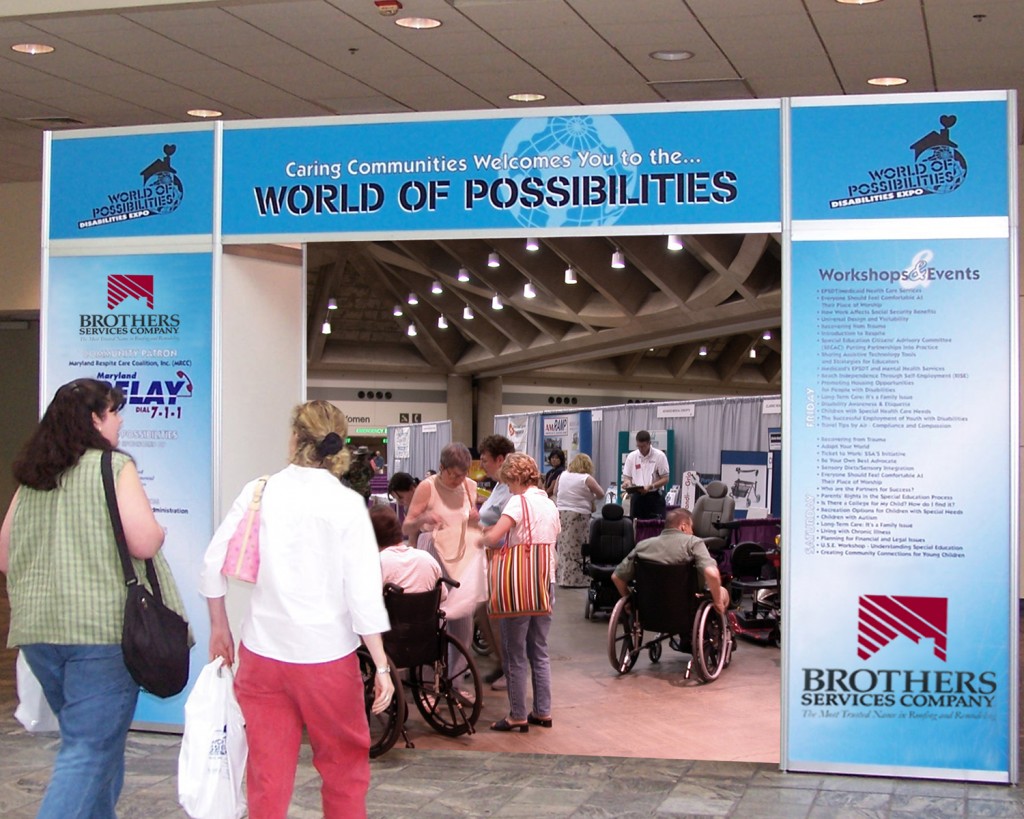 Defining Possibilities
Expanding on the term "possibilities," Freedman compiled short stories from various individuals in the disability community and published the book Living in a World of Possibilities. "I think the feedback was really good on short, motivational stories" says Freedman, adding "They weren't all motivational but they were all real life stories." Proceeds from the book go to Caring Communities, helping to relieve the financial burden on the organization's founder.
Feeling Frustrated
While talking to Freedman, frustration from her dedication to the disability community, especially linked to the annual World of Possibilities Disabilities Expo emerged. She predicts the annual expo could reach even more individuals if the state of Maryland aided to promote the event. "The state hasn't paid attention to it and I only have a couple thousand people every year," Freedman states sharing a little sarcasm. She projects, "If the state paid attention to it, the agencies and the organizations, I'd probably have closer to 6,000 people attend."
Freedman vocalizes irritation with various state organizations in Maryland, which seem hesitant to participate in the events as vendors. "There are a lot of agencies that come. [But] some of the big ones like DORS (Division of Rehabilitation), DDA (Developmental Disabilities Administration) they're like 'Um, yeah Mona, we've already got our resources elsewhere."
She notes some try to write off World of Possibilities as a conference, leading her to say "No it's not a conference. It's a big, huge expo with thousands of people."
See for yourself by watching the following highlight video from the 2012 World of Possibilities Disabilities Expo below.

10th Annual World of Possibilities Disabilities Expo
Despite the hassle from the big state organizations and agencies, the World of Possibilities Disabilities Expo provides a lively hub within the disability community for products, services and information. Next year [2013] marks a milestone, as the World of Possibilities Disabilities Expo marks its tenth year. The event will take place Friday, May 17 and Saturday, May 18 at Maryland State Fairgrounds. Friday focuses on caregivers and educators while Saturday welcomes kids and parents.
To end our conversation, Mona Freedman encourages The Mobility Resource readers to pack up their wheelchair accessible vans and head on down to Maryland next spring. The World of Possibilities Disabilities Expo features free wheelchair repair so at the weekend's end you should deem the road trip worthwhile.
Want to learn more about Mona Freedman, Caring Communities, or the World of Possibilities Disabilities Expos? Visit www.caringcommunities.org.
comments powered by

Disqus