Remembering Ralph W. Braun 1940 – 2013

BraunAbility founder and CEO Ralph Braun has passed away at the age of 72. Ralph never believed in the limits others set for himself, from the doctors who told his parents he wouldn't live past 13-years-old to the banker who refused to give a man in a wheelchair a business loan. He founded a mobility business that would revolutionize accessibility in our country and changed the lives of thousands of individuals with physical disabilities around the world. Ralph leaves behind a legacy of innovation, determination and inspiration that will be carried on by BraunAbility accessible vans forever.
We'll miss hearing his voice, but his words live on.
Ralph was born on December 18, 1940 to Joseph J. and Olive M. Braun in Winamac, IN. He was a pioneer in the mobility industry, struggling with spinal muscular atrophy from a young age. Out of a need to improve his own mobility, Braun built his first three-wheel scooter in 1962.
Realizing that there were many others like him, he started his own company developing and manufacturing several mobility products. This began in 1963 when he started Save-A-Step Manufacturing. This eventually grew into The Braun Corporation in 1972. What began as a solution to his own mobility needs grew to a company that would eventually change thousands of lives. In 2006, The Braun Corporation adopted the brand name, BraunAbility for its products. Today his company has grown into a world-wide corporation, with its headquarters still based in Winamac, IN.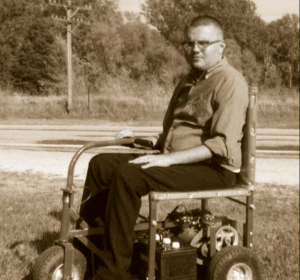 Find your perfect Wheelchair Van
Select from thousands of wheelchair vans for sale from hundreds of nationwide dealers
The Mobility Resource has one of the largest selections of Dodge, Toyota, Chrysler, Honda, Ford, Chevrolet wheelchair vans
View All Wheelchair Vans
In 2010, Ralph Braun released his autobiography, Rise Above. He then started The Ralph Braun Foundation as a way to assist the disabled population with purchasing mobility equipment. As a recipient of many awards and honors, Braun's recognition began in 1979 when he received the Employer of the Year Award from the Commission for the Handicapped and the Indiana State Board of Health.
Since that time, he has been featured on television and in many newspaper and magazine articles for his success and drive to improve the lives of others with disabilities. In 2012 he was awarded the "Champion of Change" from The White House. He was also honored with the Support of the Guard and Reserves Patriot Award. This award is for his dedicated support and flexibility offered to employees serving in the military. Ralph's most recent award was a bronze plaque from the Adaptive Driving Alliance for being the leader and pioneer for mobility products. Braun was a life-long model airplane enthusiast and member of the Winamac Aero Modelers Club.
Ralph Braun's survivors include his wife of eight years, Melody, his children Cherie (Paul) Braun-Diaz, Todd (Amy) Braun, Brent Braun, Drew (Lisa) Braun, Melissa (Nathan) Dennis, and eight grandchildren Nathan and Alison Diaz, Brittney and Brady Braun, Quentin, Justin, and Caitlin Haley, Lindy Dennis, his step children Aaron (Carrie) Gutwein, Anthony (Jennifer) Gutwein, Allison (Daryl) Starr, Adrienne (Nick) Vollmer, 7 step grandchildren and one sister Joan Heath. Ralph was preceded in death by his father Joseph J. Braun in 1986 and mother Olive M. Freeman Braun in 2012.
Ralph was a loving father, dedicated husband and wonderful friend to many. Over the years, his involvement and donations to our community were too numerous to mention. He will be greatly missed.
Friends may call at St. Peter's Catholic Church, in Winamac, IN on Thursday, February 14th from 3:00 to 8:00pm EST and on Friday, February 15th from 11:00am to 8:00pm EST . A Funeral Mass will be held at St. Peter's Catholic Church, in Winamac, IN on Saturday, February 16th at 12:00 Noon. Entombment will be at St. Peter's Cemetery.
In lieu of flowers, the family is requesting donations be made to The Ralph Braun Foundation at P.O. Box 310, Winamac, IN 46996.
On behalf of the BraunAbility family, thank you for your thoughts and prayers.
(Excerpt credit: Megan Wegner, Marketing Communications Manager, BraunAbility)
(Article originally published: frainmortuary.com.)
(Photo credit: inc.com)
comments powered by

Disqus