Rethinking Disability: People with Disabilities are Sexy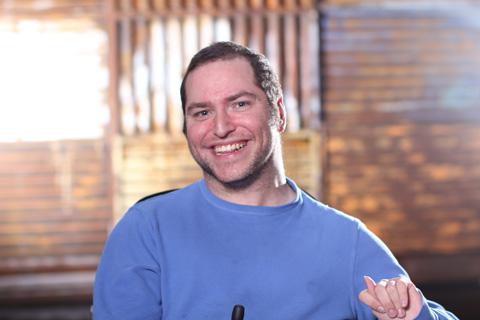 There is a HOT new dish on the disability advocacy scene and he is armed with an arsenal of tasty taboos! Andrew Morrison-Gurza is a highly educated, queer man with a physical disability from Ontario who is facilitating a global conversation about sex and disability.
Andrew is a Disability Awareness Consultant whose work affirms that sex and disability are not two mutually exclusive terms. This potential leather daddy in the making is driven by the lack of context in which people with disabilities are discussed…and his libido. Andrew explained to The Mobility Resource, "We are either categorized as angry activists or described in clinical terms. That's not sexy."
The media, medical professionals, and society as a whole have repeatedly desexualized people with disabilities. While this disparity of accurate representation and understanding conjures rather hostile feelings among many people with disabilities, Andrew's fun and flirty tactics could prove to be the much-needed game changer.
On his website, Andrew says, "I want to give people the tools and the permission to openly discuss disability, whether they have disability or not. Once given the tools and permission, disability becomes much more accessible."
Find your perfect Wheelchair Van
Select from thousands of wheelchair vans for sale from hundreds of nationwide dealers
The Mobility Resource has one of the largest selections of Dodge, Toyota, Chrysler, Honda, Ford, Chevrolet wheelchair vans
View All Wheelchair Vans
With his inviting smile, delectably good looks, and playful personality, in 2013 Andrew landed a role on "1 GIRL 5 GAYS," a show on MTV Canada. Having a queer cast member with a disability was the first for MTV Canada but Andrew hopes it wasn't the last. It may even be a first in regard to having a physically disabled person from the LGBT community talk about their sexual encounters on mainstream TV.
To further seduce the masses into joining the conversation about sex and disability, Andrew stars in a short film entitled, "Bedding Andrew." In this film, Andrew recants losing his cherry-on-top and how that experience shaped his perspective on being a queer man with a disability.
Bedding Andrew Trailer from Blair Fukumura on Vimeo.
Currently, Andrew hosts a weekly internet radio show through Voices 4 Ability called, Deliciously Disabled – A Discussion of Sex, Disability and Everything in Between. With naughty jokes, colorful guests, and Andrew's keen intellect, he reshapes listener's perspectives on what it's like to be a disabled member of the LGBT community, while offering tips on how to make LGBT gathering places wheelchair user accessible.
Social media is proving to be another valuable platform for unleashing Andrew's disabled deliciousness, and inviting others to do the same. He encourages people with disabilities to embrace and appreciate their sexy disabled bodies by sharing photos of themselves, holding a sign with the hashtag #DelicouslyDisabled. For able-bodied allies who appreciate this body positive approach to sex and disability, they can share photos of themselves holding a sign with the hashtag #DelicouslyDisabledAlly.
comments powered by

Disqus