Schedule Released For Bussani Independence and Mobility Fair
Keeping with Bussani Mobility tradition, the 2013 independence will take place at their Bethpage location near Long Island. People living with physical disabilities, their families and friends are encouraged to attend. Attendees can learn about accessible products and services to help make lfe easier and more fun.
More than 30 vendors will demo their latest products and services. Check out the schedule of free 45 minute workshops and special events.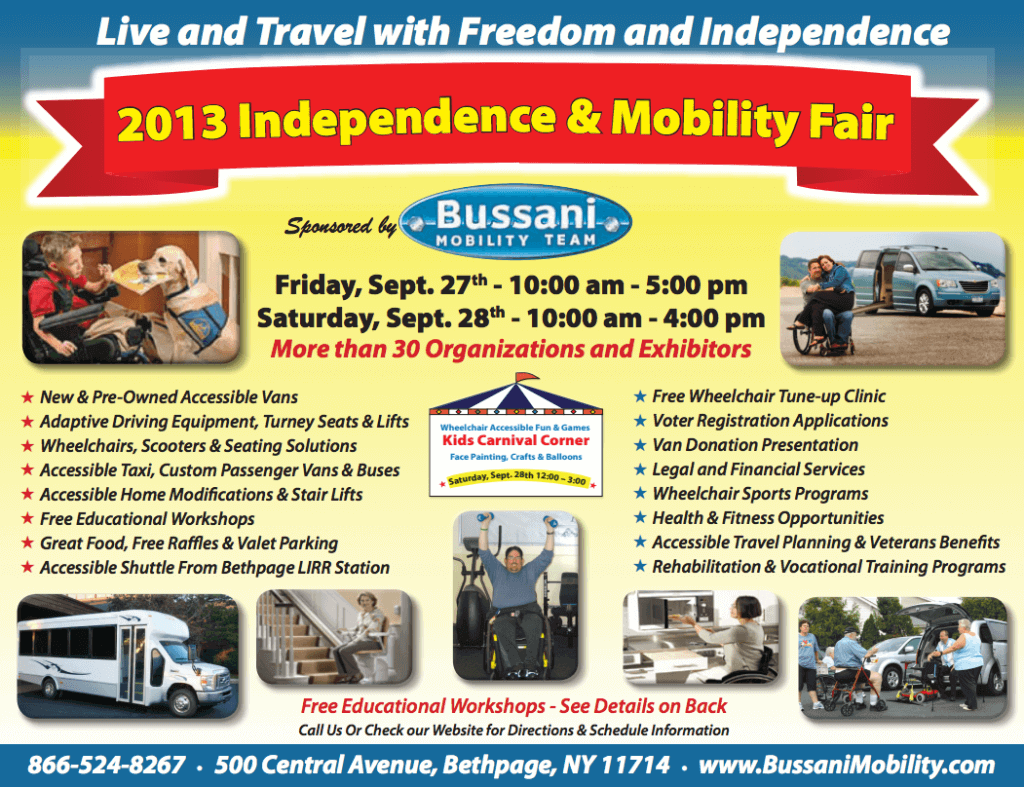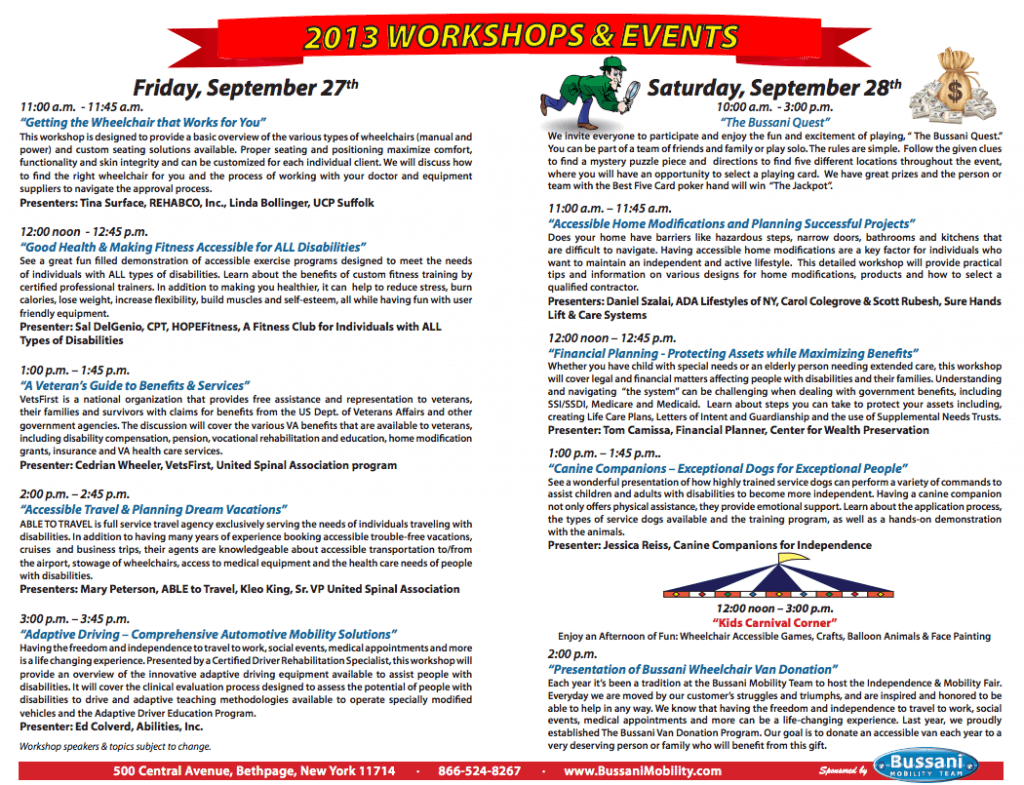 At Bussani Mobility's Bethpage location at 500 Central Ave.
? New & Pre-Owned Accessible Vans
? Adaptive Driving Equipment, Turney Seats & Lifts
? Accessible Taxi, Custom Passenger Vans & Buses
? Wheelchairs, Scooters & Seating Solutions
? FREE Wheelchair Tune-up Clinic
? Accessible Home Modi­fications & Stair Lifts
? Wheelchair Sports Programs
? Health, Nutrition & Fitness Opportunities
? Veterans Benefi­ts & Accessible Travel Planning
? Rehabilitation & Vocational Training Programs
? Register to Vote – Accessible Voting Machine
? Great Food, Raffles & Valet Parking
? Fun Filled Kids Carnival Corner
? Accessible Shuttle From Bethpage LIRR Station
Here's a list of the vendors that will be attending this year's fair!
Abilities, Inc.
www.abilitiesinc.org
Able Newspaper
www.AbleNews.com
ABLE To Travel
www.AbleToTravel.org
Access Elevator
www.AccessElevatorLtd.com
ADA Lifestyles of New York, Inc.
www.ADALifestyles.com
Braun Corporation
www.braunability.com
Bruno Independent Living Aids
www.bruno.com
Bussani Mobility Team
www.BussaniMobility.com
Canine Companions for Independence
www.cci.org
Center for Wealth Preservation
Custom Carpentry By Scott
www.customcarpentrybyscott.com
Eastern Suffolk Boces
www.esboces.org
Eldorado National Amerivans
www.Amerivans.com
Exceptional Parent Magazine
www.eparent.com
Home Free Home
www.HomeFreeHome.org
Hope Fitness
www.hopefitness.com
JJB Van Rentals
www.accessiblevans.com
Long Island Center for Independent Living
www.licil.net
Nassau County Office of the Physically Challenged
www.nassaucountyny.gov
NYS ACCES-VR
www.access.nysed.gov
OTP Mobility – Action Tracker
www.actiontrackchair.com
Pride Mobility Products Corp.
www.pridemobility.com
REHABCO Rehabilitation Equipment
www.Abledata.com
Ross Daniel Adaptive Apparel
www.RDadaptiveapparel.com
See and Be Safe
www.mactionx.com
Special Needs for Special Kids
www.specialneedsforspecialkids.com
Suffolk County Office of Handicapped Services
www.suffolkcountyny.gov
Sure Hands Lift & Care Systems
www.surehands.com
Testaverde Foundation
www.testaverdefund.org
Tilite
www.tiLite.com
Touro College – School of Health Sciences Occupational Therapy Program
United Cerebral Palsy of Suffolk County
www.ucp-suffolk.org
United Spinal Association
www.unitedspinal.org
Vango Cleaning & Restoration
www.vangocleaning.com
Vantage Mobility International
www.vantagemobility.com
Vets First
www.vetsfirst.org
Vision by Viewpoint Mobility
www.viewpointmobility.com
Wheelchair Medics
www.wheelchairmedic.com
The Aviators – Softball
Contact – Anthony Fitzgerald
516-361-9298
The Warriors – Rugby
Contact – Brian Amundsen
631-988-0242
The Roughriders – Sled Hockey
Contact – Frank Martin
631-848-3751
US Power Soccer
Contact – Michelle Erwin
917-414-0897
– See more at: http://www.bussanimobility.com/Express2.0/Blog/2013-independence-mobility-fair/#sthash.7A7yWakb.dpuf
comments powered by

Disqus