Sensimat Systems Announces Indiegogo Campaign To Launch Mobile Pressure Monitoring System For Wheelchair Users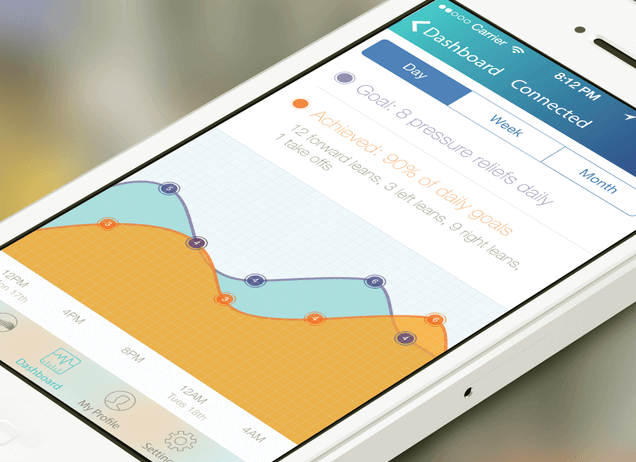 Pressure sores are a major challenge for wheelchair users and can lead to risks of infection, being bedridden, hospitalization and mortality. In the U.S. and Canada alone, there are over 3 million wheelchair users, of which over 300,000 have a spinal cord injury that impairs sensation under the torso and increases susceptibility to pressure sore injuries. A new device called the SENSIMAT for Wheelchairs is a smart cushion that can help prevent pressure sores for wheelchair users, and is crowdfunding the project via Indiegogo.
While able-bodied people have sensations that tell them to automatically shift position, wheelchair users with sensation impairment can sit in the same position nearly indefinitely. This constant pressure on tissues can create changes in blood circulation, starving them of oxygen and nutrients. The tissue eventually dies and a pressure ulcer forms. "Soon after I got injured, within two weeks I developed a pressure ulcer and it took me five and a half years to get rid of it," said Philip Stiles, a wheelchair user in the SENSIMAT video. "It started out as a little red marked bruise…it grew and grew and grew…to the point that it exposed my spinal cord to the open air. I didn't get out of bed for over two months. It drove me nuts."
The SENSIMAT, described as a "Fitbit for seating", is a cushion embedded with multiple pressure sensors. It can be placed underneath any wheelchair cushion and actively records the forces on it as the user sits throughout the day. It sends the data to a smartphone to alert the companion app of pressure distributions, relief patterns, and can push reminders to shift position. The data is also sent wirelessly to the user's healthcare provider, who can monitor the user's relief regimen, and know when there are problems with pressure relief. It's been validated at the Toronto Rehabilitation Institute and will continue its testing in research centers and wheelchair users.
You can back the project on Indiegogo now. There are options for buying one for yourself, for a wheelchair user in need, or for research purposes. Priced around $300, they are expected to ship in June 2014.
Find your perfect Wheelchair Van
Select from thousands of wheelchair vans for sale from hundreds of nationwide dealers
The Mobility Resource has one of the largest selections of Dodge, Toyota, Chrysler, Honda, Ford, Chevrolet wheelchair vans
View All Wheelchair Vans
comments powered by

Disqus