From the Siblings Point of View: Getting to Know the Siblings (Part 2)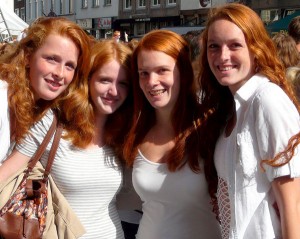 This is the second article in a series I'm writing about siblings of people with disabilities. I wanted to know more about the experience of having a sibling with a disability through the eyes of the siblings themselves and I figured the best way to find out was to talk to some siblings of people with disabilities.
Through the course of gathering information for these articles, I have had the pleasure to talk with a wide range of siblings of people who have a variety of disabilities. I have talked to kids ranging from as young as five all the way up to adults. I have chatted with people who have siblings affected by complex genetic syndromes, autism, severe cognitive disabilities, muscular dystrophy, cerebral palsy and other challenges. I have spoken with boys and girls, men and women. Altogether, I have spoken with quite an array of siblings who have brothers or sisters with disabilities. It was a pleasure to get to know all of them.
Today's article will focus on getting to know a bit more about the siblings. The first question I asked each of the siblings was to tell me about themselves. The answers I heard allowed me a brief glimpse into the lives of these siblings which I would like to share with you.
As I mentioned above, I first asked the participants to tell me about themselves. This question seemed to throw many of them off, as they were expecting me to talk with them about their brother or sister and not about themselves.
Arieanna, a 9-year-old in the third grade told me that "sometimes I'm crazy." She likes ice cream and her favorite stuffed animals are a baby dog and a baby kitty. Arieanna told me "I love my sister no matter what." Arieanna's love for her sister was something that was clearly an important part of herself as she shared this when asked to talk about herself.
Find your perfect Wheelchair Van
Select from thousands of wheelchair vans for sale from hundreds of nationwide dealers
The Mobility Resource has one of the largest selections of Dodge, Toyota, Chrysler, Honda, Ford, Chevrolet wheelchair vans
View All Wheelchair Vans
Ama, a 5-year-old preschooler, when asked about herself stated "well… my favorite meat is ham". She also let me know that she likes to play with her dolls. Ama told me "I love my Mommy, my Bubby (her brother) and my Daddy." The fact that she loves her family was very important to her.
Kathy identified herself as one of 11 siblings, four of whom are severely cognitively impaired. She shared that she is currently going through a divorce. Kathy has three teenage daughters and says she is currently trying to get them into college. She shared that it's a tricky balancing act with work and family time, especially with the added time associated with her studies as she is working towards her doctorate. Kathy noted that she is working hard to set a good example for her daughters which is very important to her.
Jacob, Ben, Dan, Elias and Nathaniel are the older brothers to a sister with multiple disabilities. Jacob, a 15-year-old young man shared that he likes to play sports. "I like playing soccer and football and I'm on the track team." He also enjoys listening to music and is learning to play the guitar. He also likes to cook. He reported that he's the oldest of the family's seven children. Ben who is 12-years-old in the seventh grade shared that he likes to "do stuff outside."
Ben enjoys being outside and likes to have camp outs. He also likes to play soccer. Dan, a 10-year-old, enjoys playing soccer and enjoys being outside with his brothers. Dan also enjoys going on the trampoline with his brothers. Elias who is 8 years old also likes to play soccer. He shared that he likes to go to the park and enjoys spending time his brothers playing sports. Elias also shared that "I like science, making little volcanoes and that kind of stuff." Nathanael, the youngest of the brothers, shared that he likes to play with Legos. He also likes play on the trampoline with his brothers. Nathaniel shared that "I like to build stuff."
Hannah who has a younger sister with an autism spectrum disorder shared that she is 19-years-old. She is currently working in a retail store. Hannah shared that she hopes to travel in the future and plans to go to school to earn a business degree.
Lydia who is 10-years-old shared she and her brother are home schooled. Lydia reported that she enjoys playing outside. She enjoys doing 1000 piece jigsaw puzzles and likes to include her brother while working on puzzles. Lydia also enjoys swimming and art. Spending time with her brother seems to be an important part of who Lydia is.
Jean shared that she is 37-years-old, "married to a wonderful man" and expecting her first child. Jean has many hobbies and likes to stay busy. She also works full time in an office. Jean is very near to starting her own family and this brings up new excitement and also new challenges.
Aidan, 11, shared that he loves basketball, and that he's the tallest in his family.
I realize none of these facts are earth shattering, in fact, some aren't even all that interesting on their own. My point in sharing this with you, is to remind us all that these siblings are people with their own personalities, interests and passions. They often play second fiddle in their families because their needs are easier to meet than the needs of their brother or sister with a disability. I believe most parents strive to be equitable and fair about things, but the reality is until we figure out how to squeeze some more hours into the day, the person most in need of the attention tends to take priority. For these brief few moments, I wanted these siblings own interests and personalities to take center stage. Despite my efforts to make a few moments of our conversation about these siblings, many focused their answers around their siblings and families. For many of these siblings, being a brother or sister plays a significant roll in defining their personal sense of self.
comments powered by

Disqus