Adaptive Skiing Review: Not Scary At All, Even After My Concussion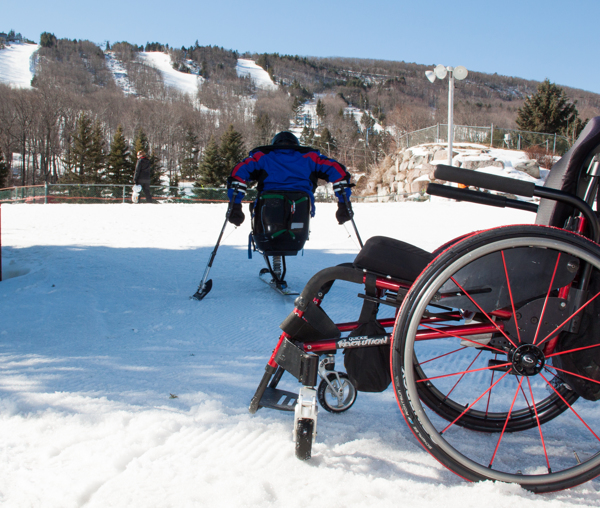 Over Christmas break, I went skiing. For any of you who have never done this, I'm writing this post for you. Because you need to.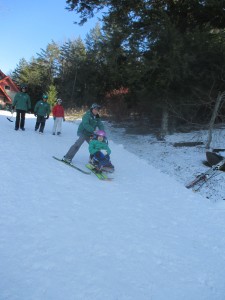 If doubt is the hurdle stopping you from this extreme sport, stop doubting. It's possible. If it's fear, well, fear is the main ingredient to my favorite virtue: courage. Read on.
The first step in skiing is to locate a mountain that has an adaptive sports program. I go to Windham Mountain in the Catskills of New York. They have an incredible program on the mountain, a branch of the Adaptive Sports Foundation.
Find your perfect Wheelchair Van
Select from thousands of wheelchair vans for sale from hundreds of nationwide dealers
The Mobility Resource has one of the largest selections of Dodge, Toyota, Chrysler, Honda, Ford, Chevrolet wheelchair vans
View All Wheelchair Vans
After that, it's a matter of getting an appointment. The programs are usually pretty popular, so always call in advance and book a time, especially if you need two or three guides like I do (This time, I got three handsome men taking me out – I was rather content).
After arriving, you sign in, pay and when your instructors are ready they'll shepherd you to the prep room. This will vary depending on your handicap. For me, it involves being strapped into a bi-ski and situating on the helmet.
In the beginning, all will feel like a breeze as the guide takes your bi-ski in their grasp and zooms down the snow with you to the lift. They'll be in control at this point.
In my experience at least, we always got to cut the lines at the ski lift. I love looking up at all the puffy colored jackets and red faces curious as to what I'm about to accomplish.
For some, the ski lift itself might be the scariest part. It swings around that belt pretty fast. The instructors are at my side without fail, watching it, counting to three and – BOOM. You're lifted, hitched into the seat and already ascending.
Just don't look down.
Getting off the lift is a little bumpy. Another one-two-three. But here's some good advice to make you sound like a pro to your ski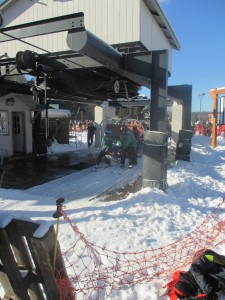 instructors – although every instinct encourages you and the guides to slow down the lift, unloading is a lot smoother and safer with the lift traveling at normal speed.
Now is the hard part. They'll take a moment to attach some side arms to your bi-ski to catch you on all the turns. And they'll also tie on the tethers.
Oooooh those scary tethers. That's when it's your turn.
Down the mountain, it's all you – the tethers are just there to help you. But YOU have to turn. YOU have to hang on. I'm very weak physically, so if I can do it I'm almost certain that you can. But with scoliosis orienting my posture to the right, achieving left turns took some efforts. You always want to zigzag down the slope. Use your eyes to look at where you want to go and go. Feel the skis dig when you lean into your turns, even though it's scary (you bump a little and feel like you might tip, but won't).
And then you reap the rewards of inexplicable speed and exhilaration and flood of life. Of delighted, surprised skiers and snowboarders upon your fleeting past them. Especially of the glee of family members ogling ridiculously with cameras and applause. Ahh, the stardom.
Oh, wait. Didn't I mention a concussion in the title? I did, didn't I.
Well, at the very bottom of the mountain on the very first run, I slid to an almost complete stop, slow…slow…slower…and, as if in slow motion, tipped over. Something malfunctioned. I hit the ice hard, banging my head even through the helmet. They dove for me and righted me, but it ached for two days after that, rendering me a little nauseous and a tad loopy (my friend Laura can attest). But I relish the event now. It's my badass battle scar. My intense adventure story. After hitting my head I went right back and did four more runs. How's that for courage?
Yes, yes, let the arrogance flow.
So there. You have to do it, guys. It's not scary. Just do it. At least once. Okay?
Do it.
S
comments powered by

Disqus