Accessible Hotel Swimming Pools: Deadline Arrives for ADA Compliance
Since I was little, and my parents said we were driving our wheelchair lift van on vacation, my first question would always be "does the hotel have a pool?" I would rejoice when the answer was "YES!" Swimming was often the highlight of any vacation. I could stay in the pool for hours – until my fingers turned wrinkly and my mom made me get out.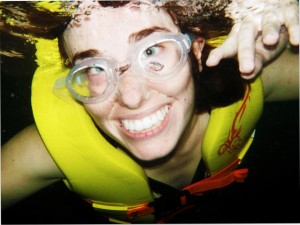 Getting out was never fun. Due to a lack of accessible entry and exit points, it was never easy. My parents or the lifeguard on duty would have to lift me out of the pool. Sometimes my body would be scraped along the edge of the pool on the way out. They would often have to make multiple attempts at lifting me before the exit was successful.
Swimming has remained a highlight throughout my travels. As Ms. Wheelchair America, I have visited many states – Tennessee, Kentucky, Ohio, Arkansas, and Georgia to name a few. That means I have stayed in a lot of hotel rooms. Swam in a lot of pools. It is great exercise and always a lot of fun. Now in my early 20s, my mom still has to make me get out of the pool – some things never change. Thankfully; however, some things do.
In January 2012, the Department of Justice issued guidance titled "ADA 2010 Revised Requirements: Accessible Pools – Accessible Means of Entry and Exit." This guidance helps ensure that all businesses that have swimming pools, wading pools, and spas make their entries and exits accessible to persons with disabilities. This includes: hotels and motels, health clubs, recreation centers, public country clubs and more.
Now, getting out of the pool is much easier and safer. Many of the pools that I visit now have fixed or portable lifts. This is a chair that is at the edge of the pool. I transfer into the lift from my wheelchair. Once in the lift, I can be transferred into or out of the water safely.
Find your perfect Wheelchair Van
Select from thousands of wheelchair vans for sale from hundreds of nationwide dealers
The Mobility Resource has one of the largest selections of Dodge, Toyota, Chrysler, Honda, Ford, Chevrolet wheelchair vans
View All Wheelchair Vans
The Department of Justice extended the date for compliance for the requirements for existing pools and spas to Jan. 31, 2013.
New Constructions:
Newly constructed or altered large pools (pools with 300 linear feet of pool wall or more): must have two accessible means of entry and exit.
One means of entry/exit must be a fixed pool lift or sloped entry
Second entry can be a transfer wall, transfer system, or pool stairs
Newly constructed or altered small pools (pools with less than 300 linear feet of pool wall): must provide at least one accessible means of entry/exit.
Means of entry must be either a fixed pool lift or a sloped entry
Newly constructed or altered spas: must have at least one accessible means of entry
Means of entry must be a transfer wall, a transfer system, or a pool lift
Newly constructed or altered wading pools
Means of entry must be sloped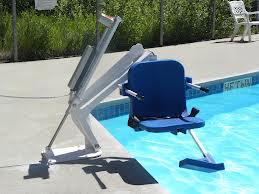 Additional Requirements:
Nothing is more frustrating then when you are finally all lotioned up and ready to get in the water and the lifeguard tells you they do not know how to work the lift, they do not know where it has been stored, or it has been damaged and is not working. I have been told all those a time or two.
Legally, once an accessible means of entry to a pool, such as the lift, has been provided, it needs to remain available and in working condition the entire time the pool is open to the public. All staff must be trained so they know how the lift works, where it is located, and how to operate and maintain it.
A pool lift must remain in place and be operational during all times that the pool is open to guests. It may not be stored and brought out only when requested by a person with a disability. The ADA requires equal and independent access for people with disabilities for all covered facilities (not just pools). The pool lifts may only be stored at times when the pool is closed to the public.
Existing Constructions:
Unfortunately, legally, not every pool that I visit has an accessible entry/exit. There is a high flexibility of the standards for existing pools. Under the ADA, there is no need to provide access to existing pools if doing so is not "readily achievable." Providing access is not readily achievable if it would involve significant difficulty or expense for the business.
According to the ADA, if a business can provide a fixed lift that meets all of the 2010 Standards' requirements without much difficulty or expense, the business must provide one. If no fully compliant lift is readily achievable for the business, the business is not obligated to provide a fully compliant lift until doing so becomes readily achievable. In addition, the business may provide a non-fixed lift that otherwise complies with the requirements in the 2010 Standards if doing so is readily achievable and if full compliance is not.
If it is not readily achievable to provide access to the existing pool, even by way of a non-fixed lift, the business need not do so. Nonetheless, the business should make a plan to achieve compliance with the pool access requirements when doing so becomes readily achievable. Accessibility is an ongoing obligation for existing facilities.
Assistance for Compliance:
A tax credit is available to small businesses that have total revenues of $1 million or less in the previous tax year or 30 or fewer full-time employees. Tax credit can cover 50% of the eligible access expenditures in a year up to $10,250 (maximum credit of $5000). The tax credit can be used to offset the cost of undertaking barrier alterations to improve accessibility including: installing a pool lift or making a sloped pool entry.
A tax deduction is available to all large and small businesses with a maximum deduction of $15,000 per year. The tax deduction can be claimed for expenses incurred in barrier removal and alterations.
For More Information:
Contact an ADA specialist at: (800) 514-0301 (voice); 800.514.0383 (TTY). Specialists are available Monday through Friday from 9:30 a.m. until 5:30 p.m. (Eastern Time), except on Thursday, when the hours are 12:30 to 5:30 p.m. You can also visit www.ada.gov.
comments powered by

Disqus