Tennis for People with Disabilities? Absolutely, Especially at the U.S. Open Tennis Tournament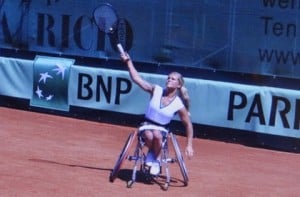 When it comes to sports for the disabled, though people don't automatically think of tennis, it is an exciting adaptive sport that has taken off over the years.
The U.S. Tennis Association lists four categories for participants in tennis as an adaptive sport. The first category is for players with mental handicaps and disabilities. This category includes players with Autism Spectrum Disorder, Down's Syndrome, or learning disabilities. The second category is for physically handicapped individuals. This includes players with missing limbs, physical birth defects, muscular dystrophy, traumatic brain injury, multiple sclerosis and other issues. Category three is for 'consumers of mental health services.' This categories sees players with histories of mental illness or handicaps such as schizophrenia or severe depressive disorders. The final category encompasses environmentally 'at risk' players, such as players with HIV or players who come from an abusive environment.
The categorization of players into such groupings allows the USTA to identify the specific needs of each group, and create an adaptive sports experience for everyone who wants to enjoy the game. Tennis is a phenomenal sport that individuals play well into their senior years. I know people who are playing in their 80s and 90s and with spin and swing techniques that can best much younger, mobile players. I know a number of players who do not run, but they stand and hit and destroy those who are supposed "runners" exhausting them because they remain calm, place the ball and use spin and slice in their strokes. I also know of 84-year-olds who are lean and mean and play singles with 45-year-olds and compete well. To me it is the finest sport that offers various types of mobility (i.e. wheelchair tennis, etc.,) and mental stimulation at the same time. Above all, it requires all who play to relax, hit the ball and have fun.
The USTA has decided to spread the word about tennis' adaptive possibilities to let folks know that there are no limitations when it comes to learning the game. There are no physical, mental or age limits once you get out on the court and learn the rudiments of the swing and what the game is about, including the scoring. Above all, the USTA wants people to understand that different players have different needs. They are taking ongoing steps to help anyone who wants to play tennis have a chance to do so. Anyone, no matter what their disability can find a partner to hit balls with, grow in the sport, play and have fun.
Find your perfect Wheelchair Van
Select from thousands of wheelchair vans for sale from hundreds of nationwide dealers
The Mobility Resource has one of the largest selections of Dodge, Toyota, Chrysler, Honda, Ford, Chevrolet wheelchair vans
View All Wheelchair Vans
There is no better illustration of this than wheelchair tennis at the US Open. Now that the US Tennis Open is just around the corner, The US Tennis Association once again is holding its sixth year of the US Open Wheelchair Tennis Competition for 2013. It will be held Sept. 5-8, at the USTA Billie Jean King National Tennis Center in Flushing, N.Y. The athletes are returning to New York after a year's hiatus due to the 2012 Paralympic Games, which were scheduled during last year's US Open.
This year's championship season will feature 20 of the top wheelchair tennis athletes from around the world. The competition will feature wheelchair tennis in the following divisions: Men's, Women's and Quad Division. There will be six events: men's singles, men's doubles, women's singles, women's doubles, quad singles and quad doubles. The neat thing about wheelchair tennis is that it follows the exact same rules as professional tennis. The only difference is that the ball can bounce twice. Think about it. The court coverage must be the same. That is far from easy when one is playing on a professional level as these top 20 athletes are.
What is especially exciting about this event which portends that it is taking off is that it is the first time that each of the divisions will feature the world's Top 8-ranked men's and women's wheelchair players. The top players have been determined according to the Jully 22 ITF rankings. The Top 4 quad players in the world also will be competing. The winners of their divisions will bring home a total of $150,000 in prize earnings for the event. This is an increase over 2011.
As publicity and viewership for the event grows and there is every likelihood that it will as the disabled are raising their voices like never before, the prize money will increase. The event will be televised. Mark my words and sooner than anyone can expect. Don't forget to look for it on your sports networks.
comments powered by

Disqus