NYC: The Disabilities Film Festival Is Stepping Into The Mainstream And Holding Its Own
The sixth annual Reelabilities NY Disabilities Film Festival is gaining momentum and building a solid fan base.
Most likely because, like anything of quality, the word gets around quick and movie buffs, filmmakers and those in the film business want to be at the forefront of trends that are gaining strength and will be hot by the next decade.
Films supportive of the disability community in their ethos and tenor are becoming more widespread as filmmakers with disabilities create their own opportunities and some seeking guidance from mainstream filmmakers, leap into film making.
Evidence of this was visible at the Reelabilities NY Disabilities Film Festival whose attendance has been growing. It was also apparent in the fine quality of the award winning films shown, many of which have been or are being entered in other film festivals, i.e. the 13th Annual Tribeca Film Festival.
Find your perfect Wheelchair Van
Select from thousands of wheelchair vans for sale from hundreds of nationwide dealers
The Mobility Resource has one of the largest selections of Dodge, Toyota, Chrysler, Honda, Ford, Chevrolet wheelchair vans
View All Wheelchair Vans
Most importantly, the ReelAbilities Disabilities Film Festival has gone national. Organizers in Boston, Houston, Cincinatti, Washington DC, Atlanta, Chicago, Philadelphia and other areas including the state of New Jersey are presenting or have presented their ReelAbilities Disabilities Film Festival. The ReelAbilities foundation has put together a festival package which allows disabilities organizers and community leaders to bring their own spin to a disabilities film festival tailored to their own community.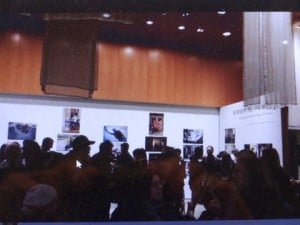 This national disabilities film movement is growing and will continue to grow. The ultimate hope is that disability blindness will become mainstream. We are not there, by any notion. But the film movement is a step in the right direction and the festival in NYC was a refreshing reminder of what a community can do to establish an atmosphere where diversity is so normal, no one gives a second glance.
This year's festival like last year's presented award winning films, music, dance and theater. There were exhibits, Q & As and discussions, a reception and dinner. Thirty venues in the region from NYC to Westchester and Long Island were engaged. The thought was to educate, network and bring together the community to explore, discuss and celebrate the diversity of human experience and appreciate how the arts are crucial toward engagement and enlightenment. Abled and disabled filmmakers were present and there were panel discussions with leaders of the disability community.
Everyone who attended left with a different perspective. The festival was spot on. I was fortunate to catch two excellent films that were well attended: Cinemability, a documentary, and Gabrielle,a narrative feature from Canada which has been submitted to the Canadian Oscars for consideration as Best Foreign Language Film for 2014. I hope to review both in subsequent posts.
There was also an exhibit, "Reinventing the Wheel-Stories of Life After Spinal Cord Injury." For this exhibit twenty-one photographers paired with twenty-one individuals with spinal cord injuries. The photographs, beautifully rendered, some in black and white, tell the every day stories about family, strength and ability. The photographs do not pander excessively to the sentiments or arouse the usual mainstream media disingenuous attitudes. They are real, normal, upfront and beautiful. The exhibit was created by BACKBONES, a non-profit that provides one-on-one peer support for people with spinal cord injury and their families. Ashley Schachfer is one featured artist who offered her insight about moving toward connecting the abled and disabled communities more openly and honestly.
Ashley Schachfer who is from Portland, Oregon worked with photogrpher Giles Clement. When she was a teenager, she suffered a spinal cord injury, T12 from a car accident. She enjoys the relationship between the human form and the beauty of nature. She is currently studying design at Portland State University.
"My new life was hard to figure out particularly as a teenager. My self-esteem was shattered and I spent a lot of time alone. One of my biggest issues as a young woman was the feeling that my femininity was lost. I felt like another species. Today, my life is no different than the typical 27-year-old female; I have goals, I go out, I camp, I hike, I swim, I love, I laugh, I have sex!"
"I feel that society recognizing those with SCI or another different ability as beautiful, sexual beings, is one way that will help humanize the community while creating that connection with others that is needed to create empathy for change."
comments powered by

Disqus