The Disability Community: An Untapped Workforce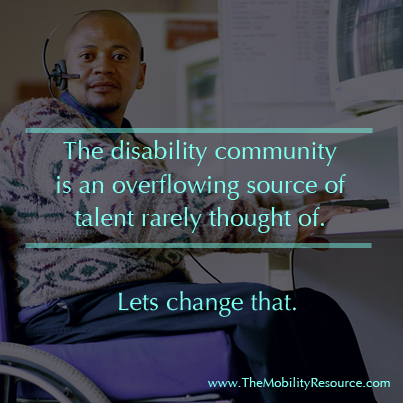 In his blog post titled Abilities Count—Not Disabilities, Dr. Herb Greenberg refers to the disability community as "a source of talent rarely thought of" by employers.
Instead of overlooking this population, Greenberg asks employers to "judge them on what they can do instead of focusing on any prejudices relating to their age, handicap, or former job and…give people the real opportunities they should get."
As someone who lost his sight at the age of 10, Greenberg knows firsthand what it is like to be discriminated against by employers. After receiving his doctorate degree, Greenberg sent out 600 letters seeking employment and 85 companies responded favorably—until he mentioned he was blind.
"These were all jobs that I could handle perfectly well—teaching, social work, counseling," Greenberg said, adding, "Those 85 letters resulted in three interviews. And, no, I didn't get any of those jobs. The minute they saw my blindness, they forgot all my qualifications. They were not interested anymore."
Greenberg refused to give up and after much persistence, he finally landed a job teaching at Texas Tech University. Before long, he went on to become a professor at Rutgers University. While there, Greenberg was asked to find a test that an insurance company could use to identify candidates who were more likely to remain in the field since they had been experiencing issues with retention.
Find your perfect Wheelchair Van
Select from thousands of wheelchair vans for sale from hundreds of nationwide dealers
The Mobility Resource has one of the largest selections of Dodge, Toyota, Chrysler, Honda, Ford, Chevrolet wheelchair vans
View All Wheelchair Vans
Unable to find a suitable test, Greenberg and a colleague decided to develop one themselves. This endeavor prompted Greenberg to start his own company in 1961. Headquartered in Princeton, New Jersey, Caliper Corporation was founded based on the belief that personality tests and assessments are key to finding the perfect job for that person.
Over the years, Caliper has become a leading global human capital management assessment and development firm with offices worldwide. Greenberg says the company has been successful because he believes in first matching people with the right job and then providing the necessary training. "There is a Human Resources axiom that says you teach skills. You cannot teach attitude, so find the attitude. Find who that person is, teach them the skills, and you'll have a good worker."
As part of his duties as founder and CEO, Greenberg has made sure to advocate for people with all types of disabilities. "We're not going to solve the problems of the disabled, but what we can do is try to educate the industry to stop the nonsense about the criteria and, again, look at what somebody is, not what they're not," he said, adding, "We urge all our clients with our blogs and everything to look past any disability and find out if it is a disability that would affect their job. In other words, if somebody answers the phone, it doesn't make any difference if they can walk or not."
Education is just one step to fostering inclusivity and not all companies will respond favorably. People with disabilities who are trying to enter the workforce or looking to climb the ladder must remember that rejection is part of the game and may be due to their disability, Greenberg said. "They're going to have to fight back. If they are not willing to fight them, then give up. They've got to fight it. They've got to say, 'Don't give me that nonsense. I know who I am."
Steps can be taken to help avoid rejection, however. For example, people with disabilities must learn how to market themselves. "They need to figure out first and foremost what they feel that they can do and what they want to do," Greenberg said. "Once they determine that, it's a matter of mobilizing the evidence that says, 'OK, I can do this job' and then going about selling it to whoever is capable of hiring for that job."
Greenberg admits that may be easier said than done. "That's the hardest part, to get them to see themselves, (and) what they want to do, and then organize a sales campaign to get somebody to buy it."
More of Greenberg's tips can be found in his New York Times best-selling book Succeed on Your Own Terms, including advice on how to assess your own strengths and weakness. While it wasn't an easy road, "right now, as I say, I'm reasonably successful and have a wonderful company and am hoping we're making a contribution," Greenberg said.
The scope of his contributions will become even more evident in the near future. "We are about to embark on some really exciting Veteran's programs," Greenberg said, adding, "If we could figure out a way to specifically help the disabled, I'd like to do that. I want to keep giving back and getting bigger and bigger so we can give more and more back because the world has been good to me in the long run, and I want to make sure that we're in a position to help people."
comments powered by

Disqus