TMR Interviews Multi-Talented Disability Advocate Brent Poppen, Part I
The following represents part one of a two-part article series based off The Mobility Resource's recent interview with multi-talented disability advocate Brent Poppen. Check back next week for part two.
Many terms accurately describe Californian Brent Poppen but all his titles seem to share at least one goal, making a positive difference in the disability community. You can call him an athlete, author, counselor, educator, public speaker and oh yeah, wheelchair user. At 16-years-old Poppen suffered an injury which left him a C6 incomplete quadriplegic. During an hour long phone conversation with The Mobility Resource, Poppen shares insights likely to intrigue our accessible van customers, discussing everything from life before his disability to where he finds himself today.
The Accident
To call what happened to Brent Poppen "life-changing" remains a half-truth, honestly. Poppen describes his life prior to the accident. "I was a good athlete that had college baseball (Long Beach State) in my future. I was a good student. I loved school. I loved training. I loved competing. It was just who I was." Poppen still maintains these personality traits today, as you will read.
First though, the events which led to Brent Poppen's quadriplegic state. Poppen attended church camp at Hum Lake one weekend. He recalls between 800 and 1000 students from various schools participating. He and a kid from another school began goofing around, "just having our version of WWE (World Wrestling Entertainment)."At one point the two fell over sideways, with the other kid landing on Poppen's spine in a fashion that bent the vertebrae.
Find your perfect Wheelchair Van
Select from thousands of wheelchair vans for sale from hundreds of nationwide dealers
The Mobility Resource has one of the largest selections of Dodge, Toyota, Chrysler, Honda, Ford, Chevrolet wheelchair vans
View All Wheelchair Vans
Initially Poppen experienced paralysis from the neck down. The camp staff did the best they could to treat his injury but they lacked the training and appropriate equipment to provide proper care. A bad snowstorm prevented the camp from transporting Poppen to a hospital immediately. Eventually the teenager arrived at a facility better equipped to treat spinal injuries. He slowly started gaining function in his upper body.
A New Sports Realm
Brent Poppen spent three months in rehab, recovering and learning how to handle a quadriplegic lifestyle. During this time his family looked into handicap accessible sports. Poppen explains, "My family was smart enough to realize that I was an athlete before I got hurt. So, I would probably excel or at least enjoy being a disabled athlete." He continues, "They went out and found sports, educated themselves, and came to me with disabled sports and what they thought I would enjoy, which was wheelchair rugby and wheelchair tennis."
Poppen shares his first reaction. "At first I was like 'Ah, disabled sports that's just not for me. I was already this great athlete. How can people with disabilities be good athletes? How can they play tennis? How can they play rugby?' I was just in a black hole and didn't have any education in that area of my life, or any experience to know any different."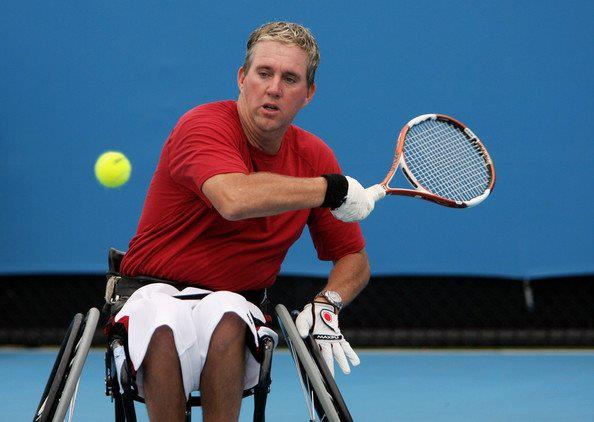 He did indeed come to know differently however, proceeding to become an elite disabled athlete in wheelchair rugby and wheelchair tennis. Yet the transition proved a difficult one. Poppen remembers back to the very beginning, four months after the spinal injury. "I couldn't even hold the racket. We had to tape the racket to my hand. And I was still weak so we'd go into the backyard and they (my parents) would throw tennis balls at me and see if I could even try to hit the ball 10 feet."
Additionally Poppen tells, "It was very discouraging to me because just four months ago I was thinking about playing baseball at Long Beach State. Now I can't even hold a tennis racket and hit a ball 10 feet." His parents insisted he continue to try and their persistence paid off. Brent Poppen went on to represent the United States of America in wheelchair rugby and wheelchair tennis at the 2004 and 2008 Paralympics.
Making a Difference
Through his journey from newly quadriplegic to Paralympian Brent Poppen developed a passion to increase disability awareness amongst individuals and families dealing with disabilities, plus the general public. He finds platforms to do this via mentoring, working with schools, serving as a counselor for a Children's Hospital, writing books and by simply upholding a welcoming demeanor to curious onlookers he encounters on a daily basis.
Talking about those he counsels at Children's Hospital Poppen says, "My story usually is more severe than their stories. So, their attitude right away is "Wow! If Brent can go on and graduate college, and teach school, and be a counselor, and be a Paralympian and travel the world, speak and write books, and do all these different things, then there's definitely a tangibility to life after disability." Poppen commutes two hours one way in his wheelchair accessible van to the Children's Hospital, but he believes the traveling is a worthwhile endeavor.
Poppen possesses something most people with disabilities don't. He explains how more than once a year when he goes out to eat with his wife, the servers ask his wife what her spouse wants to eat. They see Poppen's wheelchair and make an assumption he can't order himself. Eliminating such misconceptions stands a daunting task but one Brent Poppen aggressively embarks on.
Make sure to check back next week for part two of The Mobility Resource's in-depth interview with Brent Poppen where we discuss Poppen's work in schools, his books (Playground Lessons- Friendship & Forgiveness, Tragedy on the Mountain A Quadriplegic's Journey from Paralysis to Paralympics), and more! In the meantime you can learn more about Brent Poppen by visiting www.booksbybrent.com.
comments powered by

Disqus