Transforming Limitations Into Assets: 4 Tips For Workplace Leadership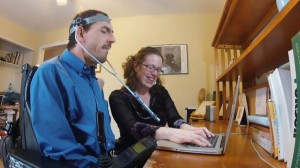 Have you ever noticed how, upon finishing school and taking our first job, we try with all of our might to prove ourselves, not by the virtues of who we are, but instead from the skills and talents accredited us by our former places of learning.
While this is true for most people, I've noticed that it is a pattern particularly common among those of us with disabilities. Some of this may be attributed to the fact that according to the Bureau of Labor Statistics, in 2012 only 17.8 percent of people with disabilities were employed.
Indeed, those of us who are into our careers have often fought so hard for the interviews and the positions themselves, that highlighting our technical skills alone can feel like the safest and most direct means to prove ourselves to a potential employer.
And yet, for so many of us, it has been the lessons taught to us by our disabilities that account for who we are and shape our perspective of the world. In my own experience, these personality traits and "soft skills" are often what interests employers most.
Over the years, it has taken me time to learn which of these elements may be of interest during an interview and how to best introduce them into workplace conversation.
Find your perfect Wheelchair Van
Select from thousands of wheelchair vans for sale from hundreds of nationwide dealers
The Mobility Resource has one of the largest selections of Dodge, Toyota, Chrysler, Honda, Ford, Chevrolet wheelchair vans
View All Wheelchair Vans
Thus, it took me time to cultivate and appreciate how these aspects of workplace leadership would eventually inform my professional life.
As you navigate your own journey, here are some personal observations about inclusive leadership that have proven useful in the work environment.
1) Your greatest asset grows from your greatest challenge.
Aside from any technical skills required for your job, how does your disability inform your biggest assets? By far, one of my favorite attributes is the ability to bring together diverse sets of people and align them under a common goal. This has always been something I've done naturally and I believe that the majority of it comes from having to rely on others for so much of my personal care while I was growing up. What values have your disability given you?
2) Share ideas for increased accessibility within your team.
Increase accessibility for yourself while removing barriers for the whole team. So often, tweaking the design of how a group functions together or adjusting the physical environment to make it more inclusive and allows others with and without disabilities to function more freely. Increased accessibility does not have to mean more expense to the company. Often times, those of us with disabilities can create far simpler and more economical solutions that create an inclusive atmosphere.
3) Everyone can use extra support at times.
Let's face it despite how far we think we've come, there's still a stigma around asking for help as perceived weakness. And yet, our abilities to ask for help often lead to unique insights and unexpected collaboration. When we can ask someone for assistance, even if it's as simple as pulling a report form the printer, there is an opportunity for conversation to ensue. Use moments of asking for support as team-building opportunities to engage with your co-workers and explore how you might collaborate with one another.
4) Bring your disability into creative problem solving.
Help your team see the world through your lens. Often times, living with a disability forces us to approach life with a new set of eyes (or accessible wheels) and assume that what has worked for others may not necessarily work for us, and vice versa. Ask your team members to approach a challenging situation with the same perspective and innovative thinking to move through the obstacle at hand.
Keeping these four fundamental principles in mind during workplace situations, from the interview process to solving your company's most pressing questions, will not only help you remain at your personal best, but it will also inspire and solidify your team dynamics and empower each member to feel heard, valued and engaged.
Photography Credit: Robert Meikle, WRAL
comments powered by

Disqus