Turning Automotive Seating Systems for More Accessible Vans
People who rely on wheelchairs or scooters don't have to sacrifice vehicle mobility. There are plenty of options for more accessible vans. Ramps and automated platforms allow easy entrance and debarking. Mechanical lifts load and unload unoccupied wheelchairs or scooters into a van. Hand controls for adaptive driving facilitate operation of a vehicle from your wheelchair.
However, some physically disabled people have difficulty getting into the driver or passenger seat of their handicapped van. A Turning Automotive Seating system or now known as Valet by Bruno, is the perfect solution. It is another way to ensure your ride is well suited to your special needs.
How Do These Systems Make for More Accessible Vans?
Turning Automotive Seating systems or Valet by Bruno can be installed in just about any handicapped-accessible vans. A replacement seat is put in place. It pivots and readily slides out of the van. It then lowers toward the ground. You can be seated without having to climb up into the van. Once you're safely sitting, the seat rises and automatically moves you into place in the van. It also moves out of the van and lowers you gently toward the ground when it's time to get out.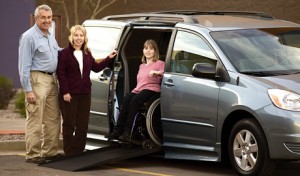 Offering Safety and Convenience for Accessible Vans
This option for more accessible vans is completely safe. Turning Automotive Seating systems install securely into your vehicle. They are sturdy and reliable. Operation is easy. Just be sure to follow all manufacturer instructions. Heed included precautionary statements. System seats meet every relevant Federal Motor Vehicle Safety Standard.
Find your perfect Wheelchair Van
Select from thousands of wheelchair vans for sale from hundreds of nationwide dealers
The Mobility Resource has one of the largest selections of Dodge, Toyota, Chrysler, Honda, Ford, Chevrolet wheelchair vans
View All Wheelchair Vans
Turning Automotive Seating systems provide a painless way to get into and out of your van without exertion. They offer additional convenience, too. Installation doesn't require any structural modifications to your vehicle. So, the seat can be completely removed without leaving any trace or detracting from resale value. The seat is transferable to your new vehicle, so you don't have to worry about paying the purchase cost again.
comments powered by

Disqus