U.S. Olympic Committee announces 227-member 2012 U.S. Paralympic Team
Team USA to compete Aug. 29-Sept. 9 in London
COLORADO SPRINGS, Colo. – The United States Olympic Committee today announced the 2012 U.S. Paralympic Team that will compete in the upcoming London 2012 Paralympic Games, Aug. 29-Sept. 9. The 227-member team, which includes six guides for visually impaired athletes, is comprised of 133 men and 94 women.
"When the 2012 London Olympic Games come to a close on Sunday, the eyes of the world will turn to the Paralympic Games and the more than 4,000 athletes competing. Each of the 227 Americans named to the 2012 U.S. Paralympic Team today are ready to captivate the world, on and off the field of play, just as our Olympians have," USOC Chief Executive Officer Scott Blackmun said. "Our Paralympians embody what it means to be an American. They will compete with the pride and honor that is inherent in representing the United States of America, inspiring Americans young and old with their stories of triumph."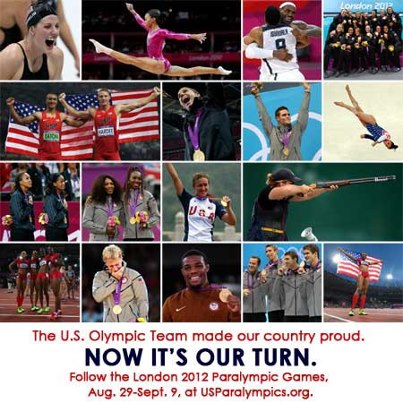 American athletes will compete in 19 sports contested throughout the 11 days of competition. The sports are archery, boccia, cycling, equestrian, goalball, judo, powerlifting, rowing, sailing, shooting, sitting volleyball, soccer seven-a-side, swimming, table tennis, track and field, wheelchair basketball, wheelchair rugby, wheelchair fencing and wheelchair tennis. At the Beijing 2008 Paralympic Games, Team USA claimed a total of 99 medals, finishing third overall.
Among the members of the 2012 U.S. Paralympic Team are 19 athletes who won multiple medals at the last Games including swimmer Jessica Long (Baltimore, Md.), who co-led the U.S. Paralympic Team with six medals in Beijing, and wheelchair racer Jessica Galli (Hillsborough Township, N.J.), who captured five medals. Long claimed four of her career seven gold medals in 2008 while Galli claimed the women's 400-meter (T53) title.
The team also includes 20 U.S. military veterans and active duty service members, some of whom were wounded in Iraq and Afghanistan. Navy Lieutenant Bradley Snyder, who lost his vision in September 2011 while serving in Afghanistan, is among the American athletes with military ties. Snyder is slated to compete in swimming on the one year anniversary of his injury.
The London 2012 Paralympic Games will be the largest edition of the Games yet, with an estimated 4,200 participating athletes, up from the 3,951 who competed in Beijing. Athletes from 165 countries will compete in London, which is representation from 19 more nations than in Beijing.
The 2012 U.S. Paralympic Team roster may still be adjusted due to injury, illness or exceptional circumstances up to the technical meetings for each sport. For the 2012 U.S. Paralympic Team roster by sport, click here or click here for a roster by state (athlete's recognized hometown).
comments powered by

Disqus