Unveiling the BraunAbility Pacifica
People with disabilities often find limited options when it comes to accessible vans and mobility. Remember that clunky full size van with a gated lift? Consumers with disabilities are looking for new options in space, design, and technology.
BraunAbility is changing the field in offering people with disabilities new options for accessible vehicles.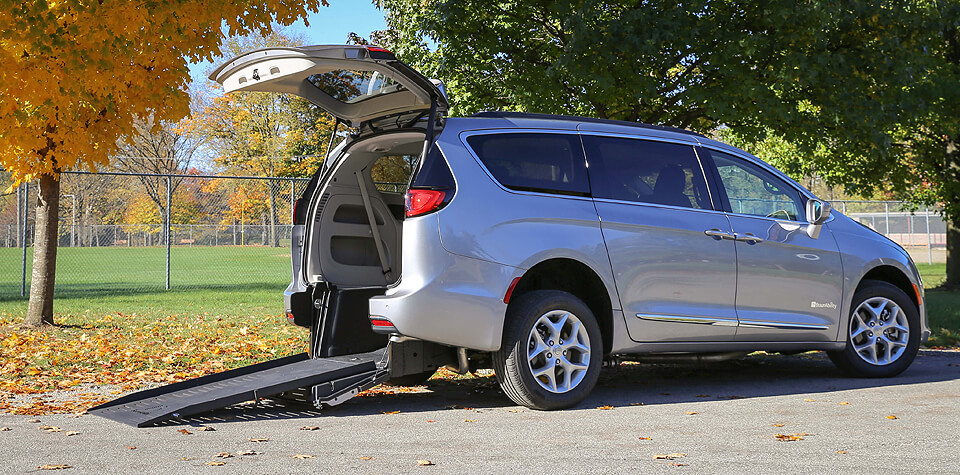 Here are some of the most innovative highlights of the 2017 BraunAbility Chrysler Pacifica:
Patent-pending AccessAbility™ technology, effectively creating the largest interior space, as well as the widest door opening and side-entry ramp in the industry. These engineering breakthroughs ensure superior maneuverability and improved ease of entry and exit for wheelchair users.
The 2017 Chrysler Pacifica was named North American Utility Vehicle of the Year as announced in this press release.
Paired with BraunAbility's Quiet Drive™ system, which is standard on every BraunAbility vehicle, Quiet Drive provides a 25% noise reduction inside the cabin of the vehicle.
Every inch counts: The BraunAbility Pacifica offers 56" of door height and 34.5" interior width, so you have plenty of room for entry with manual or motor wheelchairs.
For mobility users who are concerned about the gas mileage of their vehicle, the Pacifica Hybrid takes this revolutionary vehicle a step further with its innovative, advanced hybrid powertrain. It's the first electrified vehicle in the minivan segment and achieves 84 miles per gallon equivalent (MPGe) in electric-only mode and 33 miles of all-electric range.
In the works: Chrysler is also working to make a hands-free door option not just for the rear tailgate, but for the sliding doors on either side available as well.
The new upfitted Chrysler Pacifica made its world debut at the 2017 Chicago Auto Show on Thursday, February 9. Read Motor Trend's coverage of the Pacifica here.
In a February FCA press release, Nick Gutwein, President and CEO of BraunAbility quotes, "For over 45 years, BraunAbility and Chrysler have worked together to empower people with physical disabilities, including BraunAbility's founder Ralph Braun, to stay connected to what matters in their lives. The need for quality mobility solutions is only going to grow, and we are thrilled to align with Chrysler to launch the innovative and uncompromising BraunAbility Chrysler Pacifica."
Find your perfect Wheelchair Van
Select from thousands of wheelchair vans for sale from hundreds of nationwide dealers
The Mobility Resource has one of the largest selections of Dodge, Toyota, Chrysler, Honda, Ford, Chevrolet wheelchair vans
View All Wheelchair Vans
The release of the 2017 BraunAbility Chrysler Pacifica is great news for people with disabilities. With greater technology, design, and comfort, people with disabilities can ride the road in style and efficiency.
Follow the latest 2017 BraunAbility Chrysler Pacifica news:
https://www.braunability.com/chrysler-pacifica-wheelchair-van/
https://www.braunability.com/blog/2016/08/the-chrysler-pacifica-braunabilitys-next-big-venture/
comments powered by

Disqus