Vacation in Your Wheelchair Van in Hilton Head Island with Stops in Charlotte and Savannah
Driving your wheelchair van to the beach is easier in some places than others, as we learned on our recent vacation to Hilton Head Island, S.C.
Let's look at the accessibility of the places we visited in Hilton Head as well as our side trips to Charlotte, N.C., and Savannah, Ga
Hilton Head Island Beaches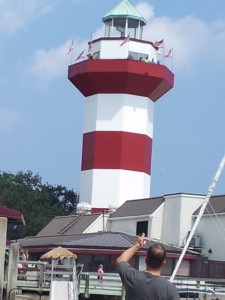 On every beach we visited, the answer to "Is this beach accessible?" was "Yes and no."
Find your perfect Wheelchair Van
Select from thousands of wheelchair vans for sale from hundreds of nationwide dealers
The Mobility Resource has one of the largest selections of Dodge, Toyota, Chrysler, Honda, Ford, Chevrolet wheelchair vans
View All Wheelchair Vans
We stayed at a condominium in the Shipyard area. While the bathroom was very big and wheelchair-friendly, we had to go up seven steps to the front door.
On the way to the beach, we ran into a sandy, rocky hill area that separated the pathway from the beach itself. We needed some help (or to carry a separate beach chair) to make it over this obstacle.
Once we got to the beach, it was smooth sailing. The high tide had washed over almost the entire beach, so my wife was able to get all the way to the water without help.
We learned about a couple other accessible beaches. The first was at Caligny Beach Park, a beautiful, modern park that was very accessible.
It had a mobility mat that led to the beach, but not all the way, so there was about a 50-foot sandy area of struggling/dragging to negotiate before reaching the water.
We also visited the Surf Watch beach, which was accessible via a long boardwalk and mobility mat, but again, we hit the difficult sand long before the water. You need to be a Marriott Vacation Club member to stay here, and they were kind enough to let us take a look around.
Our daughter and her friend liked Surf Watch the best, followed by "our beach" and then Coligny Beach third.
Hilton Head Shopping
What else is there to do at Hilton Head besides going to the beach or golfing? You can hang out, listen to music and shop, shop, shop.
We heard a lot of good things about The Salty Dog Café in the Sea Pines area, which requires a $5 fee if you're not staying in that area.
We didn't eat in the actual restaurant, but we hung out at several good shops. Unfortunately, most of them had a step up at the door.
The shopping area at Shelter Cove was the best. The stores were easy to enter, enjoy and exit. Shannon Tanner put on a great music show for the kids, and there was a fireworks show to boot.
Caligny Beach Village, the shopping area across the street from the beach, was easy to get into and out of, but the crowds and the volume of merchandise was overwhelming.
"That place was more commercial than Vegas," said my mom, who has been to Las Vegas with my dad many times.
Dolphin Tour at Harbour Town
We also went on a "dolphin boat" tour at the Harbour Town area. I put "dolphin boat" in quotes because we were stung by more wasps on the boat than we saw dolphins.
Not only that, but the boat was only accessible on the main level. If you wanted to sit on the top deck for a great view of the ersatz dolphins, you needed a lift up the steps.
Charlotte, N.C. – Billy Graham Library
Looking for an activity for a few hours before checking in to Hilton Head, we found a library dedicated to the life and ministry of the Rev. Billy Graham. Not only was it free, but it was very accessible.
We were able to take ramps in and out of Graham's childhood home, which is even more amazing considering the building has been moved, brick by numbered brick, several times.
The main library takes you on a tour of Graham's life and preaching career, starting with a talking cow representing his childhood on a dairy farm.
Then, we proceeded through the decades, visiting a Los Angeles revival tent in the 1950s, and a Louisville television store (with Graham on all the sets) in the 1970s.
Not only was all of this on one level, but the kids stayed interested with a quiz that required them to answer questions about every room. They turned in their completed quizzes for Bible bookmarks.
Savannah, Ga. – Bus Tour and Pirate House
We took a day trip to Savannah and took a great bus tour around the historic city, touring the town's iconic "squares" and checking out sites from movies like "Forrest Gump" and "Midnight in the Garden of Good and Evil."
However, not all of the tour buses are wheelchair-accessible. In fact, the only one we could find was already loaded with people and drove away.
After the bus tour, we enjoyed the lunch buffet at the Pirate House, which had underground tunnels through which pirates used to drag unsuspecting drunks off to a life of piracy. "…Never to see Savannah again," sighed Sarah, the tour bus driver.
The food at the Pirate House was delicious, but if you wanted some booty from the gift shop, you were out of luck, matey, because there was no elevator up to that level. Arrgh!
Overall, we had a fantastic time on our trip. I would just advise, as with any trip in your wheelchair van, that you call ahead to make sure you can get where you want to go.
comments powered by

Disqus