Vehicle Maintenance: What Consumers Need to Know to Take Care of Their Accessible Van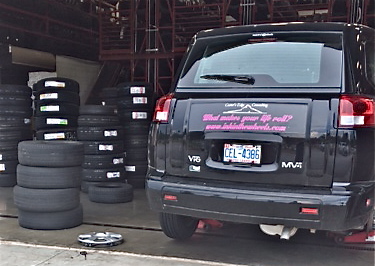 Photography credit: Megan Cutter
In just a few months after purchasing our accessible vehicle, we noticed how much my life would change with the ability to use my motor wheelchair out in the community.
Having accessible transportation increases my independence in a number of ways, from being more independent in my work, speaking at leadership conferences, community involvement, and enhancing the relationship with my wife.
We feel that sense of freedom, not only driving down the highway, but in the simplest of trips like going to the coffee shop across town. In a few months, we drove nearly 20,000 miles.
Having a new type of accessible vehicle led us to research the best ways to maintain its integrity as we pack on the miles. Every consumer of an accessible vehicle will experience the challenges of having specialized equipment.
Find your perfect Wheelchair Van
Select from thousands of wheelchair vans for sale from hundreds of nationwide dealers
The Mobility Resource has one of the largest selections of Dodge, Toyota, Chrysler, Honda, Ford, Chevrolet wheelchair vans
View All Wheelchair Vans
Here are some key tips to keep your accessible vehicle on the road:
1. It's all about the tires.
Motor wheelchairs add 200-300 pounds of extra weight inside your vehicle. That's a lot of extra pressure on your tires. Be aware of where you sit in the vehicle. For example, I am a passenger and sit on the front right side of the van. Wheelchair drivers will be on the front left. These tires tend to wear faster, and it's important to rotate tires every time the oil is changed.
Road conditions also affect the state of your tires. We live on a hill, and after several North Carolina ice storms, we could feel the tires slipping in our iced-coated neighborhood.
2. Interior Wear and Tear.
In our home, we remove rugs, carpeting, and anything that can catch on wheelchair tires. Wheelchairs are tough on floors. They are even tougher in a vehicle, especially on rainy or muddy days. Our accessible vehicle is a tough vehicle, and the interior is built to take on the wear and tear of a motor wheelchair. Cleaning the interior of an accessible vehicle is as important as regular car washes.
3. Transmission.
For many adaptive vehicles, the transmission also wears easily, for the same reasons mentioned above, wheelchairs additional weight to its normal capacity. Pay attention to abnormal acceleration levels, leaks, or vibrations.
4. Wheelchair Ramps.

Accessible vehicles are built with a variety of wheelchair ramps. Whether it is a hydraulic system, floorboard ramp, or swivel chair, moving parts with motors, gears, and folds will break. It's a part of accessible life we've come to accept.
Cleaning debris from wheelchair ramps, servicing your ramp every 750 evolutions, and slowing down to let the lift complete its downward and upward motions can all help keep the ramp in better condition over time. Make sure you know how to manually maneuver the ramp if needed.
5. Standard Upkeep.
We all know that oil and other car fluids keep our vehicles moving smoother. Staying on top of changing the oil and regular mileage service when advised is essential for accessible vehicle users, especially for higher mileage vehicles.
6. It's all about finding the right service staff for your vehicle.
The vehicle is so new, we are still finding the right service location and staff that knows it inside and out.
Recently, we drove over 2,000 miles across 10 states for a summer road trip up to New Hampshire. Our first stop was outside Lynchburg, VA, where not only were we treated with excellent service, they went out of their way to address all the questions we had, and their staff showed us what to look for if a particular issue happened again. It's all about finding that right person who gets you and your vehicle needs.
Being so active in the community means that our vehicle will experience many road conditions.
Eventually, it will begin to experience the wear that comes along with higher mileage. While we can repair my motor wheelchair with duct tape, Velcro, and Allen wrenches, we know that our accessible vehicle will take more creativity, flexibility, and ingenuity.
comments powered by

Disqus