Vehicle Production Group: The Government Giveth then Taketh Away
A few days ago, I wrote a blog giving a comparison of the VPG MV-1 against a traditional wheelchair van conversion. The BraunAbility van won by a landslide. The government seems to agree with me as well. VPG has gone belly up overnight. The company, having received a $50 million investment loan from the Department of Energy quietly ceased operation and laid off all of its staff.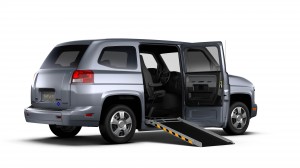 The loan was a controversial policy to begin with, but it appears as though VPG has stopped operations after finances dipped below the minimum threshold required by the government as a condition of the loan, says its former CEO, John Walsh. Despite having received $400 million in private investor funding.
Find your perfect Wheelchair Van
Select from thousands of wheelchair vans for sale from hundreds of nationwide dealers
The Mobility Resource has one of the largest selections of Dodge, Toyota, Chrysler, Honda, Ford, Chevrolet wheelchair vans
View All Wheelchair Vans
The MV-1 itself was selling well enough in the commercial market to create a backlog of orders (at least 2,300). However, the company reports that a stable and robust wheelchair van dealer network wasn't in place to help fulfill all of the orders.
It is hard to believe that a government loan of $50 million has not only helped the company get up and running, but also shut them down. The loan conditions stipulated that the federal government reserved the right to freeze their assets if they failed to meet targets set by the DOE.
Just like Frisker, Vehicle Production Group failed to meet its target despite the backlog.
It seems a bit strange that VPG was unable to gather more financial investments even though they had literally 2,300 wheelchair van orders ready to go when they restarted production.
Are private sector investors being overly-cautious when considering niche investments? Are all companies backed by government investment doomed to fail? How can we protect tax-payer investments in companies without being overbearing on companies? Can we ever wean ourselves from our addiction to gasoline? Let us know what you think in the comments.
comments powered by

Disqus