Victoria Arlen, Paralympic Champion and Paraplegic Ruled Ineligible to Compete: But Why?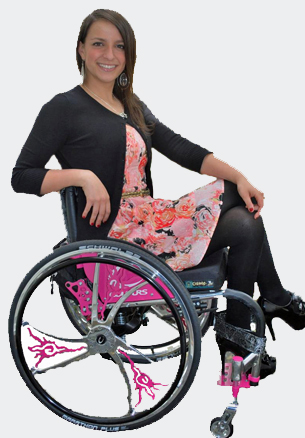 Victoria Arlen is a champion Paralympic swimmer, winning a gold medal and three silvers in individual and relay events in the freestyle and setting a world record in her class in the 100-meter race. As a result of her wins in the 2012 Paralympics, she became a quasi-celebrity and threw out the first pitch at a Boston Red Sox game.
Now, Victoria Arlen may never be able to compete again. The Paralympic committee declared her ineligible to compete in the 2013 Montreal games because they dispute that Victoria has a permanent disability. Though she cannot walk and is in a wheelchair, they interpreted records submitted by doctors that in the future, it is possible that there will be advances which may improve her condition. Victoria Arlen is fighting the ruling of the committee that she doesn't have a "permanent eligible impairment."
Frustrated, Arlen according to reports, has not been motivated to continue her training practices to maintain her top competitor status. She has come to question her career as a Paralympic swimmer. The heartbreak of what the committee has put her through has aroused the attention of U.S. media outlets and the ire of New Hampshire's governor (Victoria is from Exeter, N. H.) and two senators. Whether the sympathy and advocacy of many in her corner will result in an overturning of the ruling remains to be seen. The committee stated that she would be able to compete if they received sufficient medical evidence that shows she has a permanent impairment.
The irony is that this has already been done, but the Paralympics committee says it's not enough.
Victoria's doctors sent medical and hospital records and documentation to the Paralympic committee after she competed in London for the games last year. It was in London they initially ruled her ineligible, but the United States Olympic Committee protested and an independent arbitrator was brought in. The arbitrator ruled that she should be properly classified as permanently impaired and made eligible for the games. Even then, the arbitrator's ruling was not enough; she was subjected to an arduous three hour physical assessment in which she was repeatedly asked by the I.P.C. representative to show that she couldn't move her legs, over the objections of the U.S.O.C. representative. After all that, she was allowed to compete under review status with the caveat that she would have to be re-evaluated within a year.
Find your perfect Wheelchair Van
Select from thousands of wheelchair vans for sale from hundreds of nationwide dealers
The Mobility Resource has one of the largest selections of Dodge, Toyota, Chrysler, Honda, Ford, Chevrolet wheelchair vans
View All Wheelchair Vans
To compete for the Montreal championships, Arlen asked to be re-evaluated again and the documentation about her disability was sent. Again, the committee wanted more, especially after five doctors with experience in Paralympic classification reviewed a medical report by an expert in transverse myelitis and acute disseminated encephalomyelitis (ADEM) which had put her in a coma in 2010 and caused Victoria's inability to walk and control her legs. The five doctors interpreted the report that there was a slim possibility that however remote the reality, her condition might not be permanent and might improve whenever.
Another irony in all this is that Victoria's condition is not improving following the course of transverse myelitis and ADEM and has been getting worse since she competed in London. She has nerve pain and muscle spasms in her back and hands that intensify and her hands clench more often; some days are better than others. Yet the Paralympic committee's thought is that more documentation is needed to prove that her impairment is permanent. The condition which Victoria has took her legs and ability to walk and control them, putting her in a wheelchair. The condition has now been worsening the other area of her body that she used to offset her paralyzed legs. Yet, the committee is ignoring this information and the logic of it.
Granted, classifying athletes with neurological illnesses that have paralyzed their legs and put them in wheelchairs is much harder than classifying an amputee who doesn't have a leg. On the other hand, it seems disingenuous if not callous to rate not having a limb as more worthy of eligibility than not having the use of both legs because of a paralyzing condition. In this instance, Arlen has both limbs but can't move them, the possibility being that, maybe in the future, something will be found to help her, though it may be in her 40s and past the age and height of her athlete powers.
Clearly, as more athletes withs disabilities compete, the classifications should undergo a review and change to accommodate those whose conditions have impaired them neurologically where, like Arlen, they can't walk, move or control their legs, and the condition appears to be worsening other areas of the body not previously impacted. Certainly, they need to review the criteria used in light of Victoria Arlen's case and with the possibility of differentiating or separating out or adding new classifications, perhaps those criteria fine tuning those with neurological impairment and the others for amputees.
The concept of permanent impairment should also be reviewed and perhaps redefined. If one gains movement long past the age and athleticism to compete at the level of the Paralympics, should this not be considered a permanent impairment? What is permanent in light of the Paralympics in terms of age to compete in certain individual sports competitions which are much more rigorous and demand high levels of training, not that sports competitions don't. But at least this should continue the discussion in light of what has happened to Victoria Arlen.
If anything good comes out of this stressful situation with Victoria Arlen, it would be hoped that the Paralympic committee begins to take a long look toward reevaluation of its classification system with the thought of reformation. This is not a situation of fraud, as in the case of other athletes who competed in Paralympic games and were not worthy. This is entirely different.
comments powered by

Disqus