Wheelchair Van Sports Destination: Ohio Wheelchair Games
If you're looking for a sports destination to go traveling in your wheelchair van, you should make plans to attend the Ohio Wheelchair Games in the Columbus area.
The 2012 Games took place on June 22-23 on the campus of Ohio Wesleyan University in nearby Delaware, Ohio.
Athletes ranging in age from 9 to 55 competed in track and field, swimming, air guns and weightlifting. There are three levels to enter; Juniors, Adults and Masters. Within each of those levels, everyone coming in gets classified.
Classifications are based on your abilities. Where you classify determines who you are competing against. If no one in your classification attends, then you're trying to achieve the standard to move up to the next larger competition.
Some were competing just for fun, while others were qualifying for national and international competitions.
Find your perfect Wheelchair Van
Select from thousands of wheelchair vans for sale from hundreds of nationwide dealers
The Mobility Resource has one of the largest selections of Dodge, Toyota, Chrysler, Honda, Ford, Chevrolet wheelchair vans
View All Wheelchair Vans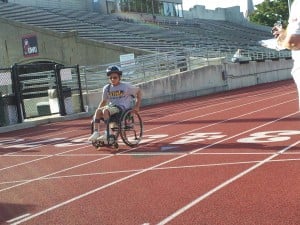 Zena Cole, who holds American records in the club throw and discus, was perfecting her form for the following week's national trials in Indianapolis. She is looking forward to competing this summer in London at the 2012 Paralympic Games.
The Ohio Wheelchair and Ambulatory Sports Association put on the 42nd annual Ohio Wheelchair Games, the oldest such competition in the country.
John Gray, who helped to found the Ohio Wheelchair Games, participated this year in the Air Guns events. He has competed in 21 international competitions dating back to the 1960s.
The Games have expanded since 2007, when then-chairman Bruce Schreiber formed a partnership with Wheelchair and Ambulatory Sports USA. This national affiliation gave the Ohio Wheelchair Games access to coaching, officiating and computer resources.
The Ohio Wheelchair Games also began to include ambulatory athletes three years ago.
"We wanted to broaden our horizons, because we had athletes with disabilities but didn't use wheelchairs, and they had no place to compete," said Schreiber.
As a non-profit organization, the OWSA welcomes sponsorship partners, such as Beyond Limits Training, a Columbus-area gym that is the site of the Ohio Wheelchair Games' weightlifting competition.
As the athletes checked in, they also met a representative from Coloplast, which manufactures small, discreet urology catheters that are often needed by people with spinal-cord injuries.
In addition to sponsoring the Ohio Wheelchair Games, Coloplast also sponsors Michael Johnson, who races an adapted Indy-style open-wheel race car.
Daniel Barker has taken over operations of the Ohio Wheelchair Games from his father, Schreiber, after several years as a volunteer.
"I had the support of my dad, and he was looking over my left shoulder," he said. "The athletes knew me, too, so it was an easy transition."
Barker said the family atmosphere extends throughout the Ohio Wheelchair Games.
"We all have one goal, and that is to make wheelchair, ambulatory and Paralympic sports more well-known," he said. "We have the support of US Paralympics, and that's going to help us grow."
Dan Schwieder, US Paralympics' manager of community and veterans programs, attended the games as part of the effort to grow the Paralympics sports at the grass-roots level.
He said that athletes across the country can connect with a local club at the U.S. Paralympics Website's "Find a Club" section of each sport.
Schweider said public awareness of the Paralympic movement has grown dramatically over the years.
"When we did a research study in 2002 to see how many people had heard of Paralympics, we had only 5 percent recognition," he said. "Many people confused us with the Special Olympics."
"We did the same study a decade later, and our recognition is up to 70 percent," he said. "There's still a lot more to be done to get more people involved in Paralympic-style sports and activities."
Jennifer Gorman contributed to this report. Follow us on Twitter @JeffDGorman.
comments powered by

Disqus