Wheelstrong Sports Is More Than A Label, It's A State Of Mind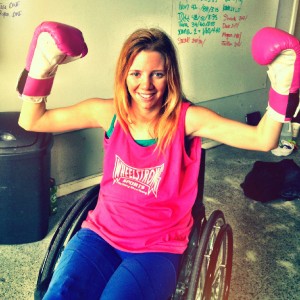 In 2003, Matthew Celeberto was in an auto accident, which left him a T8 complete paraplegic. As a young, strong and athletic guy, he did not allow this turn of events to derail his health conscious ways. He quickly learned that a guy could be surprisingly fit and active while sitting upon his derrière.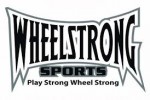 In 2011 he was thrilled to discover different types of wheelchair sports like, basketball and sled hockey. His involvement taught him that athletes in wheelchairs train and play just as hard as able-bodied athletes. They are also painfully underrepresented in the world of sports and fitness. This lack of representation inspired Celeberto to establish Wheelstrong Sports.
In addition to offering a wide range of branded athletic gear, Wheelstrong Sports is also an online hub for disabled fitness enthusiasts to share information–and even show off a little.
The current workout series featured on Wheelstrong Sports YouTube channel is hosted by Anderson Wise, a body builder who represented the United States in the 2008 Paralympic Games. In this series, Wise teaches viewers how to workout using the 'kettlebell.' The kettlebell originated in Russia and was used in military physical training exercises. Its versatility makes it the workout equipment of choice for many disabled fitness enthusiasts.
Wheelstrong Sports is also committed to supporting athletes with disabilities whenever possible, such as Matthew Tilford. Tilford was an athlete before he was ejected from a moving car, becoming a T12 paraplegic. His passion for staying active and his positive attitude were his greatest assets through his long and painful recovery. Now that he is back in the game, his sights are set on mastering hand cycling. With Wheelstrong Sports sponsoring him, there is no doubt that Tilford will reach his goal.
Find your perfect Wheelchair Van
Select from thousands of wheelchair vans for sale from hundreds of nationwide dealers
The Mobility Resource has one of the largest selections of Dodge, Toyota, Chrysler, Honda, Ford, Chevrolet wheelchair vans
View All Wheelchair Vans
If you are a person with a disability who is seeking tips and tricks on how to stay fit and active, or if you are just curious how those of us on wheels stay in shape, check out Wheelstrong Sports.
comments powered by

Disqus