Which Accessible Ramp is Right For You?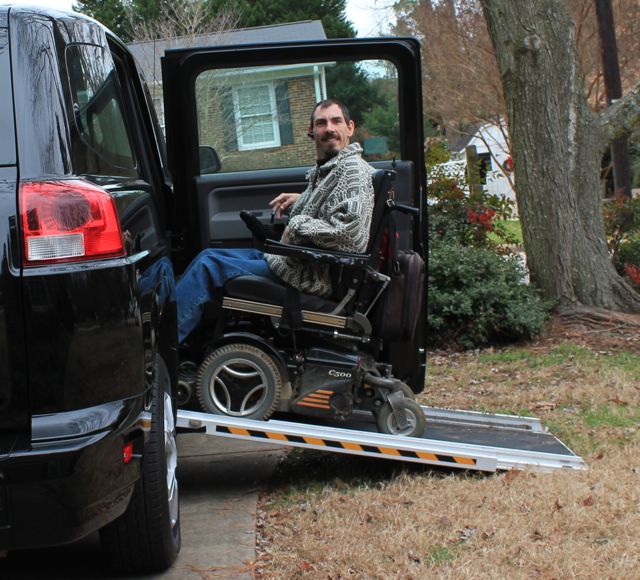 Accessible ramps come in several different designs. Manual ramp, folding ramp, rear entry, floor ramp.
How do you know which is the right kind of ramp that fits your needs best?
First, you need to know different types of ramps, how they operate, benefits, and potential drawbacks.
Find your perfect Wheelchair Van
Select from thousands of wheelchair vans for sale from hundreds of nationwide dealers
The Mobility Resource has one of the largest selections of Dodge, Toyota, Chrysler, Honda, Ford, Chevrolet wheelchair vans
View All Wheelchair Vans
Know Your Accessible Van Ramps and Lifts:
Fold Up Ramp, Side Entry
Fold up ramps rest behind the sliding door on the passenger side. Fold up ramps are available in both manual deployment and electric folding ramps. Folding ramps are typically less expensive than other types of ramps. It may be your best option if you live or park in areas with a steep curb or gradient. However, electric folding ramps may require more maintenance over time. If there is a breakdown, manual deployment is a back-up option.
In-Floor Ramp, Side Entry
The in-floor ramp stores the ramp underneath the floor of your accessible vehicle. This type of ramp provides full space inside the vehicle for passengers and storage. Passengers can enter and exit the vehicle without the ramp interfering with the seating inside. However, the angle of the ramp may be steeper than a folding ramp, depending on your vehicle's specifications. And, you'll want to be sure to maintain your ramp, as it collects more debris underneath, which can inhibit full storage of the ramp.
Rear Entry
Rear entry is a ramp that comes out the back of the vehicle. Many consumers like this feature because it eliminates the need for an accessible parking space. However, rear entry prohibits a wheelchair driver or sitting in the front passenger seat. Ideal for a child or family member who has mobility needs. This is a less expensive conversion, and there is more ground clearance than a side-entry vehicle.
Turning Automotive Seats and Front Seat Lifts
Turning automotive seats that come out of the front passenger side and swivel down for easy transfers. This may be helpful for people of all ages who do not need to ride in their wheelchair.
A fairly new type is the turning automotive lifts for pick-up trucks, specifically for front seat drivers who use mobility devices. These type of lifts pick up the wheelchair as opposed to a swivel seat.
Outside Wheelchair Lifts
This type of wheelchair lift attaches to the back of a vehicle, and a wheelchair is transported outside of the van. This feature attaches to the back of many types of vehicles and does not require conversion. However, this type of lift may not be optimal for everyone and mobility devices may be subject to the environmental elements.
Full Van Lifts
Full van lifts have been available for many years and are available in both motor and manual styles. Typical for full size van conversions, these lifts are ideal for heavier loads.
Each type of lift will have weight specifications and may have options for guardrails, lengths, gradient, and options for electric or manual deployment. Consider any additional accessories such as hand controls.
While it may take some research, digging into the details will help you make an informed decision about the best type of lift or ramp for your lifestyle.
Visiting an accessible van dealership to take a test drive will give you first-hand experience on if the ramp operation will fit your needs.
What has your experience been? Does the ramp in your accessible vehicle meet your needs? Rate your accessible van here.
comments powered by

Disqus