Will Driverless Cars Carry People With Disabilities Into The Future?
Robots taking over the world is a classic science-fiction storytelling device, but if machines can help with the driving process, it could help people with disabilities.
Toyota, Nissan and even Google are working on cars that allow computers to take over some of the driving duties. In the future, they might allow people to do something else while the car makes its way down the road.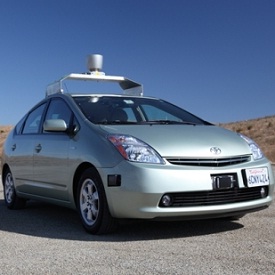 "Former drivers may be able to safely work on laptops, eat meals, read books, watch movies and call friends as they travel. The elderly and disabled may gain critical mobility," according to Phys.org.
The website also reported tha Toyota has introduced a "pre-collision braking assist system" in the Lexus sedan.
Find your perfect Wheelchair Van
Select from thousands of wheelchair vans for sale from hundreds of nationwide dealers
The Mobility Resource has one of the largest selections of Dodge, Toyota, Chrysler, Honda, Ford, Chevrolet wheelchair vans
View All Wheelchair Vans
Toyota is working on cars that can communicate with each other wirelessly 10 times per second. Ostensibly, this would reduce traffic accidents and congestion.
But how will this help people with disabilities? It's not easy to project the real effects of such technology when the concept is so new.
However, it makes sense that if a driver with disabilities can make it into the car and send it on its way with a voice command, it would eliminate the need to use any physical abilities to move the car.
The blind would obviously benefit greatly from a driverless car and many could actually become "drivers" for the first time.
Last year, Google allowed a blind man to take a test drive in its experimental self-driving Toyota Prius. According to PC Magazine, Nevada became the first state to approve driverless cars for the road in 2012.
Not everyone is excited about the idea of computers taking over the driving process. In fact, ReadWrite.com came right out and called Google's driverless car "evil," comparing it to "The Matrix" and "Big Brother" (from the George Orwell book 1984, not the reality show).
"In effect, the Google's vehicle technology car represents a shift from corporate control of the digital devices we carry to corporate control of the vehicles that carry us," ReadWrite stated.
I'm sure many in the disability community wouldn't mind a computerized car that could make travel safe and accessible, no matter what computer giant is "controlling" it.
If you think all of this technology is decades in the future, think again. Even the flying car has gone from "The Jetsons" into the real world.
comments powered by

Disqus