Young Athletes Qualify for Junior Nationals at Ohio Wheelchair Games
Pittsburgh's Strong as Steel team will be represented in Arizona
Children who use wheelchairs have almost as many opportunities to participate in sports as their able-bodied peers.
This was evident at the Ohio Wheelchair Games, which took place June 22-23 in Columbus, as Trent Clayton and Darrion Allensworth competed in a variety of events.
They are members of the Strong as Steel Adaptive Sports Team and made the three-hour trip from Pittsburgh with their families.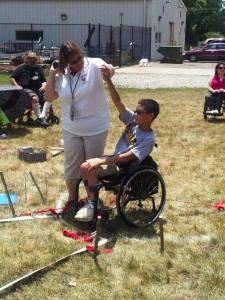 Trent and Darrion began their day with the field events. Deb Armiento, the head of the National Junior Disability Championships, gave each child pointers on how to throw the discus and javelin.
Find your perfect Wheelchair Van
Select from thousands of wheelchair vans for sale from hundreds of nationwide dealers
The Mobility Resource has one of the largest selections of Dodge, Toyota, Chrysler, Honda, Ford, Chevrolet wheelchair vans
View All Wheelchair Vans
"She was helping them learn to do it in the correct way to compete at nationals," explained OWG coordinator Daniel Barker. "That way, they learn good habits and don't get disqualified after all their hard work."
Coming up with a team was actually 9-year-old Trent's idea when he was 8. He told his mother, "We should make a team, so more kids from Pittsburgh could come to NJDC."
The boys moved from the field to the track later in the day. The teammates competed side-by-side in the 100-meter dash, despite the fact that Trent was running and Darrion was using a wheelchair.
It was a fair competition, because they were really racing against the clock, not each other.
Athletes have to achieve certain times and distances in order to qualify for the competition in Arizona. Once they get there, they will compete against other kids who are in their same classifications.
By the end of the day, Trent had punched his ticket to Arizona in the javelin and shot put, as well as the 60, 100, 200 and 400 meters. He achieved 7 golds in the 2012 Ohio Wheelchair Games.
Trent's left side is stronger than his right due to hemyphoegic cerebral palsy. He tried several adaptive sports, but it soon became clear that running was his specialty.
"In baseball, he didn't love hitting the ball, but he loved running the bases," said his mother, Darla.
Similar to Trent, 10-year-old Darrion is a typical boy who wants to play as many sports as possible, not hindered by the fact that he uses a wheelchair due to spinal cord atrophy. He has no movement from the middle of the torso down.
He competes in javelin, shot put, track and swimming, and his trip to Columbus was not his first. His future aspiration is to do archery.
"We've come here for the last three years for a sled hockey tournament in January, and it's always right around his birthday," said his mother, Sabrina Chao.
Darrion competes on a swim team in Pittsburgh alongside with other children who do not have disabilities, and he keeps up quite well.
"In his very first year, he finished seventh in the freestyle out of 13 kids," Chao noted.
This year's NJDC will take place in Mesa, Ariz., from July 21-28, with the competition moving to Rochester, Minn., in 2013 and Ames, Iowa in 2014.
Armiento said a lot of time and preparation goes into choosing a site for the NJDC.
"We get bids from the cities, and then we go on site visits," she said. "The facilities have to be top, and we have phone conferences every week. As we near the event, the phone conferences become several times a week."
Armiento expects about 200 young athletes to make the trip to Arizona for the weeklong athletic competition.
On the second day of the Ohio Wheelchair Games, Trent was cheering Darrion on in the pool, and also joining the competition was 13-year-old Sammy Rhodes of Wooster, Ohio.
She had a busy day in the pool, swimming the 25, 50 and 75 meters in both the freestyle and breaststroke, as well as the 75 meter individual medley
While her family won't be making the trip Arizona for the NJDC, Sammy's mother, Kelly, said that she has ambitions of going far with her swimming.
"She would like to compete next year with the U.S. junior team in Puerto Rico," Kelly said, "and she wants to swim in Rio de Janeiro in 2016 in the Paralympics."
Jennifer Gorman contributed to this report. Follow us on Twitter @JeffDGorman.
comments powered by

Disqus