Rear-Entry Wheelchair Vans
The Mobility Resource offers a wide selection of rear-entry wheelchair vans. During your search for the right handicapped van for your needs, please note that no vehicle allows for both rear and side-entry at the same time. Instead, all of our vehicles allow for rear-entry wheelchair ramps or lifts (excluding the Chevrolet Traverse and Ford Explorer which allows for only side-entry), so you can pick your preferred make from notable brands, including Chrysler, Dodge, Ford, Honda, and Toyota. Rear-entry conversions for wheelchair vans are equipped with fold-out ramps that are either manual or automatic. During conversion, the center track of the vehicle is cut and lowered to accommodate a fold-out ramp that allows wheelchair entry. Browse The Mobility Resource's inventory to find both new and used rear-entry wheelchair vans for sale from popular brands such as Chrysler and Dodge. Individuals seeking special financing on these vehicles can refer to The Mobility Resource's flexible financing options for further information.
Handicapped vehicles can be found in both rear and side-entry — the right selection will depend on your particular circumstances. Keep reading to learn the benefits of a Rear-Entry conversion.
Rear-Entry Benefits
More Affordable - Rear-entry vehicles are generally less expensive than side-entry vehicles.
Ideal Choice for Traveling with Attendants - Individuals who require an individual or attendant while traveling may prefer a rear-entry vehicle because it offers the option for an attendant to be seated next to the wheelchair while in motion.
Barrier-Free Exit & Entry - Rear-entry vans are also designed to make entering and exiting the vehicle as barrier-free for wheelchairs as possible. The wheelchair moves straight forward and backward to enter and exit without having to turn.
Options from Top Brands - Popular brands including Chrysler, Dodge, Ford, Honda and Toyota offer rear-entry handicap vehicles.
More Parking Flexibility - Rear-entry vehicles offer more parking options. Since entry is from the rear, you can park in a standard parking lot space and still access the vehicle.  No need to find a special wheelchair space with room designated on the side.
More Ambulatory Seating Options - Rear-entry wheelchair vans provide more seating positions inside the vehicle for larger families when fold-down rear benches and center seats are maintained.
Rear-Entry Drawbacks
Drivers Required to Transfer - Wheelchair users are not able to access the front of the vehicle in a rear-entry conversation. As a result, wheelchair users are not able to drive from their chair and must use a specialized transfer seat to access the driver position.
Must Exit Facing Backwards - When leaving a rear-entry van, the wheelchair user exits the vehicle facing backward, and in some cases, exits into the driving lanes of parking lots.
Limited Trunk Space - Because of the technical requirements for the rear-entry conversion, the back of the vehicle is taken up by the placement of the wheelchair ramp (which sits in the middle of a vehicle). As a result, there's a lack of room in the van, eliminating trunk space.
Difficult Parallel Parking - Rear-entry vehicles are less suited for parallel parking. Because the vehicle requires the wheelchair user to exit and enter from the back, it is not practical in city environments.
Limited In-Transit Access for Wheelchair User - Additionally, wheelchair users are unable to access the driver and front row passenger seats since they are situated in the mid-row or back of the vehicle.
Available Rear-Entry Vehicles
Select Rear-Entry wheelchair accessible vans converted are available within The Mobility Resource's inventory: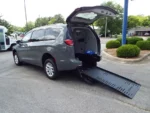 Chrysler Pacifica
Learn More >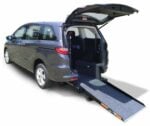 Honda Odyssey
Learn More >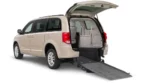 Dodge Grand Caravan
Learn More >
Types of Rear-Entry Conversions
Rear-entry wheelchair accessible vehicles can be found in manual fold-out and power fold-out ramp options. The right selection will depend on your particular circumstances, preferences and budget. Keep reading to learn the difference between power and manual wheelchair van conversion ramps.
Power Fold-Out Wheelchair Ramps
Power fold-out ramps are more expensive due to the automatic system that allows the ramp to open and close with the click of a button.
Power wheelchair ramps are more convenient and user-friendly than manual wheelchair ramp conversions.
Power foldout ramps require occasional preventive maintenance every six months to ensure trouble-free operation.
Manual Fold-Out Wheelchair Ramps
Manual wheelchair ramps are a more affordable option for budget-conscious buyers.
The caregiver is required to deploy the ramp, as well as store it after use. Although it is less convenient, these well-designed ramps, and spring mechanisms make deploying and storing the ramp fast and easy.
Manual foldout ramps are very simple to operate and the least likely style to need maintenance due to their simplistic design and lack of having any motorized components that could fail.
Related Resources